Governor's plan is short-term budget relief, not long-term reform
A draft of Gov. Rod Blagojevich's pension plan made available to legislators April 7 -- the first solid details since the Feb. 16 budget address -- makes it clear that the governor is seeking short-term budget relief, not long-term reform.
I am a member of the governor's pension commission, which has been meeting since April 2004 to address Illinois' severely underfunded public pension systems. The governor is using the commission's recommended savings allocation plan -- which I opposed -- and proposes short-funding the pension systems by more than $800 million next year, although many budget forecasting groups project that the actual savings will only be $80-$100 million.
Our initial analysis of the governor's plan shows that it lists specific amounts that the state will contribute to its pension systems in 2006, rather than a formula based on the needs of a pension system that has reforms in place. This indicates the governor's plan is all about a quick source of cash for his budget rather than any meaningful reforms that will help the state meet its constitutional pension obligations to teachers and other state employees.
Educate student athletes about steroid abuse dangers
Teaching student athletes about the dangers of steroid abuse is the aim of legislation approved April 11 by the Illinois Senate.
Senate Bill 64 requires school districts to teach junior high and high school students participating in athletic programs about the dangers of using anabolic steroids.
A National Institute of Drug Abuse study showed an increase in steroid abuse among middle school students and a decline in the percentage of 12th-graders who believed that steroids pose a health risk. We need to make sure student athletes understand that the inappropriate use of anabolic steroids can stunt their height and increase their risks for premature heart attacks, strokes, liver tumors, kidney failure and serious psychiatric problems.
Supported by the State Board of Education, Senate Bill 64 now moves to the House for further consideration.
[to top of second column in this article]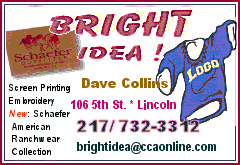 Nominations for Home Town Awards due June 17
The Governor's Home Town Awards program gives formal recognition to outstanding community volunteer projects. Awards are presented in eight categories, based on community population.
Applications for awards may be submitted by a variety of community representatives, such as local governments, schools, community organizations and chambers of commerce. Applications are reviewed by a team of impartial volunteer judges, who conduct site visits to finalist communities before deciding on winners. The judges also select one project from among the first-place winners to receive the Governor's Cup.
Applications are due in Springfield by close of business on June 17. Both individual category winners and the Governor's Cup designee are announced during the annual Governor's Home Town Awards banquet each June in Springfield.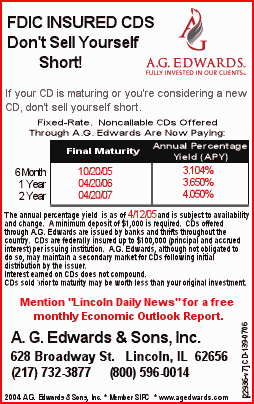 The program is administered by the Illinois Department of Commerce and Economic Opportunity.
For more information, contact the Illinois Department of Commerce and Economic Opportunity, 620 E. Adams St., Springfield, IL 62701; (217) 558-2838; TTY (217) 785-6055; or check http://www.illinoisbiz.biz/com/ghta/.
[From Sen. Bill Brady]