A discount card for goods and services at the following Lincoln area businesses: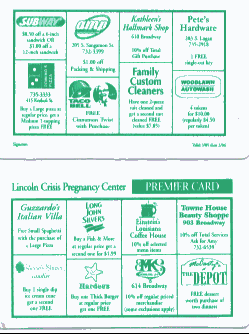 Guzzardo's Italian Villa


Russell Stover Candies


Long John Silver's


Hardee's


Einstein's Louisiana CoffeeHouse


MKS Jewelers


Towne House Beauty Shoppe


The Depot


Subway


AMP Packing and Shipping


Domino's Pizza


Kathleen's Hallmark Shop


Pete's Hardware


Family Custom Cleaners


Woodlawn Auto Wash
$10 each. All proceeds will go directly to the center.
Purchase of this card entitles the buyer to special discounts available from merchants throughout Lincoln. The card is valid for a year (until 5/21/06).
If you are interested in purchasing the CPC Premier Card, please print this page and fill out the form. Send it along with payment to:
Crisis Pregnancy Center
308 N. Union St.
Lincoln, IL 62656
-------------------------Premier Card Order Form----------------------------------
Quantity of Cards: _______________

Total Price: ($10 each) $ __________

Name: _____________________________

Address: ___________________________

__________________________________

Phone: ( ) _____________________