Park district notes

Send a link to a friend
Winter activities to beat the doldrums
From Roy Logan
[DEC. 1, 2005] Your Lincoln Park District has a winter of indoor fun planned for everyone. We'll give you the information for December events and promise to introduce you to great activities and educational programs throughout the months to come. We'll return with some of your favorites and will be adding new events as well.
A park district membership is a wonderful Christmas gift. Exercise will lend itself to good health, and that is a priceless gift. We offer a variety of levels of membership, some including aerobics classes as well. Cost information is only a phone call away. Reach us at (217) 732-8770 with your questions.

Our annual Breakfast With Santa is Saturday. We are pleased to partner with CITV5 and the Kiwanis to bring this Christmas favorite back to you. While we feed the youngsters, Mom or Dad confirms what Santa already knows! Then when your child's turn arrives, stand back and watch the amazement. We must ask that there be an adult with each party of children. Your child will be filmed, and this event will air on CITV5. Tickets are available at $6.50 for adults and $3.50 for children. Breakfast is served buffet style, featuring a home-cooked menu.

As we try not to succumb to the holiday spread -- that being from the tabletop to our waistlines -- we offer a new aerobics class. Jacki Pavlik, who has taught her evening classes with us for a number of years, offers her trained and motivating skills on Sunday afternoons starting at 3 p.m. She will be featuring free weights, body bars, bands and the exercise balls. She guarantees a great workout with a lot of variety. Jayne Weaver offers her Monday-Friday morning classes, with Jenny Liesinger and Diane Redpath covering the remaining weeknights. Call the center for class schedules.

Winter league volleyball sign-up will begin Monday. Roster information and league costs are available at the front desk. We have set aside Tuesday evenings to play and have reserved Thursday evening if needed. This is a really fun league and a great way to work out with friends.

[to top of second column in this article]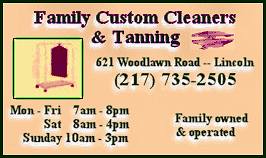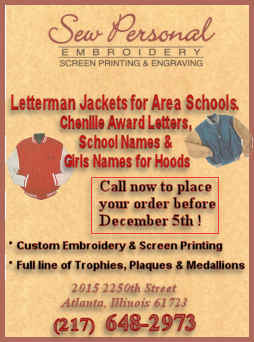 A big part of Christmas break for many families is finding something for the kids to do. In response to the "I'm bored; there is nothing to do," Lincoln Park District comes to your rescue.
The week before Christmas we offer tennis lessons. Brianna Sheldon comes back to teach Dec. 19-22. She taught with the park district over the summer, and we promise that your children will enjoy and learn with her teaching technique. Lessons for kindergarten through second grade are at 9:30 a.m. We'll even provide the rackets and balls for these little ones! Third through fifth grades are scheduled from 10:15 to 11:15. Sixth grade and up are from 11:15 to 12:15. Costs are $25 for in-district residents or $30 for those out of the district.
A four-day tumbling camp is scheduled to start Dec. 27. Lauren Perring, who has taught tumbling at the park district numerous times, shares her talents with us again. Pre-kindergarten through second grade will start at 1 p.m. and end at 1:45. Third through fifth grades will have one-hour classes starting at 1:45. All instruction is in the aerobics room. Previous students are encouraged to come back. Lauren will conduct skills assessment with each student, and instruction will be individualized after that. Cost is $25 for in-district residents or $30 for those out of the district.
[News release]