Five candidates are seeking the position of mayor of Lincoln

Send a link to a friend
2005 mayoral candidate questions posed
[FEB. 9, 2005] The primary election scheduled for Feb. 22 has only one contest, that being between three Republican candidates: current Mayor Beth Davis, Pat O'Neill and Dale Voyles.
The winning Republican will then join the general election contest against the only Democratic candidate, Jan Tabor, and an independent candidate, Tom O'Donohue. The general election is scheduled to vote on April 5.

Each of the five candidates has been requested to submit a letter describing his or her beliefs about how to run the city and why they feel they should be the one to do that. Lincoln Daily News will post those positions right here for you to review. They will be posted in the order they are received.

The candidates have been supplied a list of questions, offering that they answer any or all, as they choose. They may also fill in their allocated space in the manner that they feel best to inform you, the voter. In their letter it says, "You may write anything else about your position or leadership and background that tells how you will lead the community of Lincoln."

We look forward to seeing their responses.

[to top of second column in this article]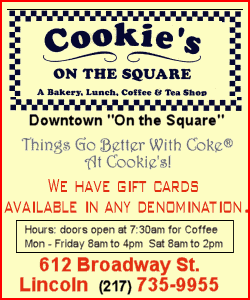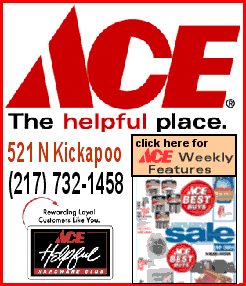 The suggested questions are listed below.
Mayoral candidate questions
If you are elected mayor:
What will be your main focus as mayor?
What are other areas that you will develop or maintain?
What are your strengths to lead this community?
What is your position on working with the Lincoln/Logan County Development Partnership?
What lines of communication will you develop with other government entities: state, county, nearby cities?
How do you intend to build more revenues for the city?
What would you like the time of your administration to be remembered for?
How will your leadership inspire community spirit?
Life Sentence, No Parole

If we tried to invent the cruelest punishment for dogs, we probably couldn't come up with anything worse than "solitary confinement" on a chain or in a kennel.

Dogs are pack animals who crave the companionship of others. Scratches behind the ears, games of fetch, or even just walks around the block mean the world to them. Curling up at your feet while you watch TV is their idea of heaven.

Many dogs left to fend for themselves at the end of a chain fall prey to attacks by other animals or cruel people, and many others are injured or hanged or choke as a result of getting entangled or caught in their tether.

If you have a backyard dog, please, bring him or her inside. They don't want much--just you.

A public service announcement from Lincoln Daily News and helpinganimals.com