For kids! Abraham Lincoln Birthday Party at Logan County Courthouse, 10-11:30 a.m.
Classroom presentations, storytelling, refreshments. Coloring contest winners will be announced.

Lincoln's Birthday Luncheon, 11 a.m. at the Maple Club.
Speaker: Ralph Gary, author of "Following Lincoln's Footsteps." Tickets are $15 and are available at Lincoln College Museum, Mount Pulaski Historical Museum, Lincoln City Hall, Simonson Flooring Center and Logan County Historical Society (call 732-2898). Music by the Prairie Aires. Mary Todd Lincoln cake donated by Lincoln College.

Postville Courthouse State Historic Site Open House, noon-4 p.m.
Guy Fraker, attorney and author with a lifelong interest in Abraham Lincoln, will speak at 1:30 and 3 p.m. in the second-floor historic courtroom. Period music by Postville Express, tours, hand-quilting demonstrations, cake and punch. Bring your family and friends!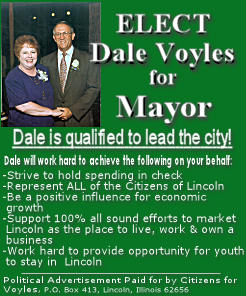 Lincoln College Charter Day Celebration, Johnston Center for Performing Arts, 2 p.m.
Charter Day activities honor the founding of Lincoln College. The celebration will include presenting an honorary degree to well-known history guide and Civil War scholar Edwin C. Bearss and hosting a panel of Lincoln historians. The panel will discuss the topic "Lincoln and the American Dream." The event is open to the public, with a reception to follow in the Meyer-Evans Student Center.