"If there is a way to lessen Illinois' pension costs without shortchanging state employees, then I'd be willing to examine the governor's proposal," said Bomke. "My fear is that the governor is being overly optimistic on how much the state will actually save by reducing pension funding. Illinois' state retirement system is already the most underfunded in the country. I'm afraid that appropriating less money into the pension system will aggravate the problem further."

The governor estimates the state will save $800 million, which can be used to fund other programs. Bomke wants to see more details on how much money the state will save.

"Seventy-five percent of the people that would be affected by these pension changes are retired teachers," Bomke said. "These are people that dedicated their lives to educating our youth. I will not support any proposal that would result in lost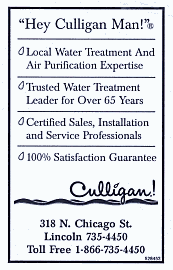 benefits for Illinois' retired educators."
[News release
from Sen. Larry Bomke]