Balloons relocating to
Logan County Airport

Send a link to a friend
Officials ironing out details
[FEB. 17, 2005] Each year it gets bigger and better. If you have lived in Lincoln just one year, you know what it is. What started as a nice little art festival in downtown Latham Park over three decades ago and has grown into a four-day citywide celebration that attracts over 10,000 visitors. The festival now includes arts and crafts, flea markets, a carnival, music and entertainment, and many other activities and events spread throughout town. But what gains the most attention are those big, glorious, fire-breathing masses that roar from on high -- hot-air balloons.
It was determined last year that it would be best to find a new location to host the balloon portion of the festival. The balloons have been launching and glowing from the Logan County Fairgrounds in recent years. The fairgrounds will continue to host a number of activities, but the balloons are moving out to the Logan County Airport, where they and spectators will have more room.

Airport officials have been meeting with the Lincoln/Logan County Chamber balloon fest committee for many months working out details for the 2005 balloon festival. A plan is coming together that all find appealing. The chamber committee made a lot of headway by consulting with Danville officials, who also host a large balloon event. Danville was very helpful in supplying details on how to be successful using the airport grounds, chamber president Patrick Doolin said.

Land traffic
A one-way traffic flow plan into the north end of the grounds and out again has been developed.
Some roads around the airport will become one-way.
Signs will be posted directing traffic.
The sheriff's department will assist with traffic.
Air traffic
The grass landing strip will be closed.
The main landing strip will be closed for short amounts of time while balloon launch.
Arrangements have been made for a portable fuel tank to be brought in and located at the south end, away from balloon activities on the north end.
[to top of second column in this article]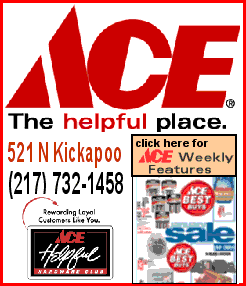 Airport authorities agree that the limited amount of time that the runway is closed should pose no problem to pilots. Other airports close for air events like the Peoria and Bloomington air shows. The FAA will issue alerts in pilot briefings.
The change of the balloon location frees up the track space at the fairgrounds so that Lincoln Speedway may host a race at the fairgrounds on Sunday evening.
Heritage In Flight Museum will be a key attraction at the festival. The museum consists of three areas. The outdoor static displays are open anytime. The hangar and artifacts buildings are open by set hours and by appointment. Festival hours will be announced.
The committee will be meeting with airport neighbors in the near future to discuss concerns and traffic flow plans.