The Lincoln Daily News publishes letters to the editor as they are received.
The letters are not edited in content and do not necessarily reflect
the views of Lincoln Daily News.
Lincoln Daily News requests that writers responding to controversial issues address the issue and refrain from personal attacks. Thank you!
To the editor:

On Tuesday, Feb. 22, the citizens of Lincoln once again have an opportunity to cast their vote for mayor. I look upon this year's election as a time to also show my appreciation to Beth Davis for the four years of service she has given to our city. She has been a true friend. The past four years have been difficult years for all of us. We have witnessed many changes in Lincoln. I am glad that we had a mayor during these years who was able to lead and who stood up with pride for her city, our city. Beth Davis has stood up and spoken out on behalf of Lincoln.

When the largest employer in Lincoln, Lincoln Developmental Center, came under fire, she was the first to come to its aid and commit herself and the city to helping the employees and individuals who worked and lived there. I, as a citizen of Lincoln and former union president at LDC, appreciated very much the mayor standing by my side. Mayor Davis spoke out for the character of Lincoln, which was being so strongly maligned. She never swayed in her energy or efforts to represent Lincoln.

Her commitment to Lincoln has continued throughout the years since the closure of LDC. As the mayor she has played a vital role in assuring that the center's employees and individuals will return. The plan to build new homes for the developmentally disabled and to bring back at least 100 state jobs is on track, and construction should begin this year. I cannot thank Beth Davis enough for her dedication, friendship and her help. Without the mayor's help those state jobs would not be returning to Lincoln.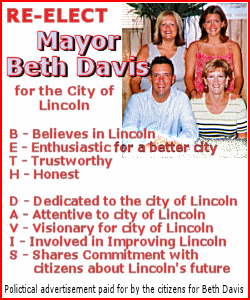 I am writing this letter in support of Mayor Davis as a private citizen. A grateful, private citizen who lives in a city that is rebounding and growing. There have been many new businesses that have opened their doors in Lincoln during the mayor's first term. The people living here are still proud of their city. The city and the mayor have faced some difficult times, but through Beth Davis' leadership we continue to hold our heads high.
I see good things in Lincoln's future because of Mayor Davis. I know that the people who worked at Lincoln Developmental Center are looking forward to its return. The mayor has made this possible, and I urge everyone in Lincoln who joined LDC in its struggle to now come out in force to support and vote for Beth Davis on Tuesday. She is Lincoln's friend, and we need her to continue in her duties as mayor. Let's stand by her like she has stood by us.
Don Todd
(Posted Feb. 18, 2005)