Lincoln Speedway requests to hold national event
Council members will vote Tuesday night on whether to allow the Lincoln Speedway racetrack to add a non-Sunday event this season. Raceway owner-operators Gary Baugh and Norm Horn would like to add a national event on Friday, July 15.
The event causes two concerns:
First, the raceway was approved to run races Sundays only.
Second, the race will begin later and therefore will end later than normal.
The only noted drawback in hosting the races at the Logan County Fairgrounds is the noise created by the cars. It is an imposition on those living closest to the track. It is with their indulgence and in the interest of economics for the community that the races were approved to operate one night per week until at latest 10 p.m.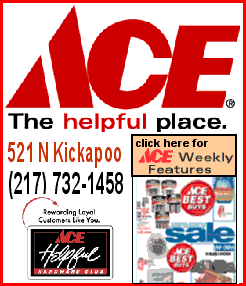 The hours for the national race are requested to extend up to 11:30 p.m., though the race is expected to end much sooner.
There would still be a Sunday night regular race event that week as well.
Two unrelated demolition derbies and the annual tractor pull were held at the track last year. Those are planned for this year too.
Neighbors to the track presented a petition with a hundred signatures opposing the Friday event.
["Lincoln Speedway owners want to bring national event to town," posted in LDN on Feb. 14]
Contaminated properties restoration in planning process
Plans to pursue grants that will aid in the cleanup of contaminated properties are still in process. Randolph and Associates, Inc. will handle the engineering plans and grant writing. Negotiations with Lincoln Parking LLC for the first site development are in process.
D.C. trip holds hopes for future funding
The council's Legislative and Grant Writing Committee went with Environmental Management Corp. representatives to see our representatives in Washington, D.C. The group left on Feb. 9 and returned on Feb. 11. While there, the group met with legislative staff for U.S. Sens. Durbin and Obama and U.S. Rep. Ray LaHood.
"We requested $500,000 this year for a sewerage treatment plant south lift station STAG grant and felt fairly confident we might be considered as a recipient again this year," Mayor Beth Davis reported.
LaHood has been instrumental in getting financial assistance to the area for infrastructure and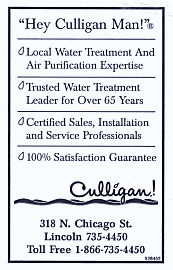 public safety training and equipment. Lincoln received $500,000 toward the sewer plant upgrade completed in 2004. He secured another $250,000 after that, which has been committed toward infrastructure.
[to top of second column in this article]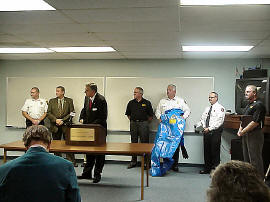 City and county officials gathered in the Logan County Safety Complex Emergency Operating Room last fall to acknowledge all the equipment that U.S. Rep. Ray LaHood has helped law enforcement and first responders to acquire. Left to right: Lincoln Police Chief Robert Rawlins; Logan County Sheriff Steve Nichols; U.S. Rep. LaHood; Dale Voyles, who was then Logan County Board chairman; Lincoln Fire Chief Bucky Washam, holding a blueberry-colored hazmat suit; Bob Thomas, who was then chief of the Lincoln Rural Fire Department, holding an infrared camera; and Dan Fulscher, ESDA director.
LaHood has also helped secure federal homeland security matching grant funds that have benefited all the city and county emergency service departments. Those funds have allowed the purchase of an additional infrared camera so that the city and rural fire departments each have one of these lifesaving devices now.
The city police and county sheriff's departments have new mobile telephones that use newer, more secure frequencies for field communications.
The city fire department has a trained hazardous materials team and was able to purchase the latest in hazmat suits with self-contained breathing apparatus this past year.
Dilapidated properties addressed
A new awareness of properties that are eyesores and bringing down property values spurred responses at a meeting on Feb. 7. At that time city attorney Bill Bates supplied a detailed explanation of why it is nearly impossible for the city to take on these properties.
In summary, it is a lengthy and complex process that can be pricey in legal fees to start. Then when you add the demolition costs and possible hazardous materials handling, it is usually not cost-effective to consider. He gave as an example a property downtown. The Miller building cost $60,000 to demolish and is sitting as an empty lot now worth $5,000 to $10,000. Most properties might not cost that much to clean up but would cost more than the $3,000 to $5,000 value they would have after demolition.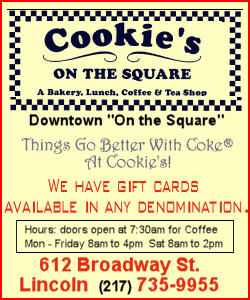 It is unfortunate, but it just is not cost-effective for either the property owners or the city to demolish some of these properties, Bates said, and the city definitely cannot take on the costs of reclaiming the number of properties that are out there.
Rob Orr of the Lincoln/Logan County Development Partnership said that he has had people come forward who are interested in helping get these properties cleaned up. They see the economic benefit to the community in getting the run-down properties looking better and are willing to supply some money.
Mayor Beth Davis agreed that the city would like to work together with the development partnership and may be willing to supply some matching financing to provide a means for property owners to do something with these properties.
Finance chairman Verl Prather said he thought the city could set up a community beautification grant with these funds as a redevelopment source to help property owners.