Pierce-Arrow cars tour to Mount Pulaski

Send a link to a friend
[JULY 16, 2005] MOUNT PULASKI -- The Pierce-Arrow Society drove 30 of their finest to Mount Pulaski on Thursday. The members have been having their annual meeting this year in Springfield. The cars are from all over the U.S., with about half of them shipped to Springfield for the July 14-17 event. At least two of the cars have been priced over $600,000.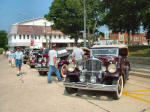 There was quite a large Pulaski turnout for the cars, as well as many people coming from outside of town to see these magnificent automobiles -- most of them being in top-notch condition. The organizers were very pleased at the interest in the cars.
The Pierce-Arrow group stayed for about two hours, visiting the state historic site courthouse, in which Abraham Lincoln once practiced law along with Judge David Davis, later appointed by President Lincoln to the U.S. Supreme Court. They also toured the Mount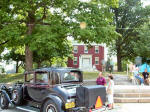 Pulaski Museum and were treated to refreshments at the Salt Creek Attic antique furniture and gift shop.
Their next stop was lunch in Petersburg and a visit to New Salem in the afternoon.
For more information on the Pierce-Arrow Society, check http://www.pierce-arrow.org/.
For pictures of the vintage cars, click here.
[Phil Bertoni]