Details of discovered body parts released in hopes of further information

Send a link to a friend
[JUNE 2, 2005] The Illinois State Police and Sangamon County Sheriff's Department continue to investigate the discovery of two severed human legs discovered in the Divernon area. The victim had a French pedicure, which is a light pink nail polish with white tips. Also, a partial tattoo was on the victim's right inner thigh. The police are unable to positively identify the design of the tattoo due to the area in which the legs were severed. The tattoo is believed to be fairly recent and contains pink, yellow and black ink.
Through analysis conducted by the Illinois State Police forensic anthropologist, it has been determined the victim is a white female, 20 to 40 years of age. The victim was 5 feet 3 inches to 5 feet 7 inches and had brown hair.

A bulletin with this information will be disseminated to law enforcement agencies state and nationwide. Authorities are hopeful this bulletin will assist in narrowing the scope of the investigation in identifying the victim.

The first leg was discovered east of Interstate 55 near Divernon at approximately 8 p.m. on May 23. Illinois State Police and the Sangamon County Sheriff's Department conducted a search of a wooded area the next day, using Illinois State Police Crime Scene Services and a cadaver dog. As the search broadened out, another leg was discovered later.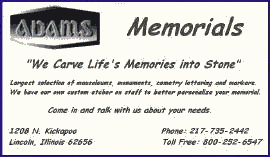 If anyone has any information concerning this investigation, please contact the Illinois State Police at (217) 786-7110 or Sangamon County Sheriff's Department at (217) 753-6666.
[News release and LDN]