County laying foundation for future
Proposed solution to property violations and junk cars presented

Send a link to a friend
[JUNE 2, 2005] It's a new page in Logan County's history, with cities, county and economic development groups all looking hard at where we are and where we want to be. Our downtown's storefronts and buildings have gotten facelifts that revitalized their appearance. Downtown Lincoln streets were refurbished. Lincoln welcomed a Goody's and Dollar Tree a couple of years ago, and now other business are filling in on Woodlawn Road, making it a business district with Interstate 55 access. And most recently the addition of a world-renowned business, Sysco Foods, anchors efforts to forge into a healthier future of our choosing.
Last week the Logan County Regional Planning Commission hosted a community meeting to inform, excite and hopefully draw the interest of citizens in the multiple processes that are taking place that will help us become the place we'd like to be. Change is a necessary factor; however, we do get to choose how we will change, and officials are asking for residents to become involved in the processes that are under way and will continue over the next couple of years.

At the core of future plans is the development of a new comprehensive plan. The Logan County Regional Planning Commission has a questionnaire out that will help determine what types of business and living environments we will pursue. The information collected will be integrated in the new plan. The questionnaires are online, in banks and will be delivered to homes in Atlanta and Mount Pulaski. You can help shape our future by making your preferences known in the 20-question checklist.

[To submit online, click here.]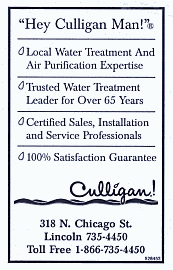 A critical component in planning is determining where industry, residences and commercial development should go or not go. Zoning and ordinances work together to make better neighbors and use of land and more efficient use of infrastructure (tax dollars) funds.
The Logan County Board has reinitiated the planning and zoning committee to examine ordinances and zoning.
The county and some municipalities have some problems with a few landowners not complying with current ordinances. In particular there is a need to be able to enforce the removal of inoperable vehicles from properties.
[to top of second column in this article]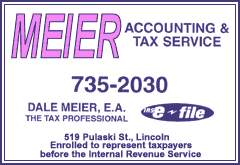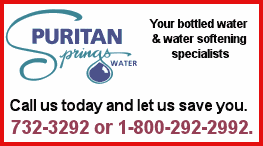 A backlog of higher priority criminal cases in the states attorney's office prevents the county from issuing violations. County coordinator Dewey Colter has been researching an alternative process that a number of other Illinois counties have turned to.
The board can set up an administrative adjudication process. This legal process allows an appointed official to issue violation citations. The citation can be paid and the mess cleaned up, or the property owner can pay a hearing fee and get a hearing before a specially appointed hearing officer. The documentation of that hearing would then go to the state's attorney for continued processing. This manner of handling has met with great success in other counties.
The process can be applied to any department of government that has rules and regulations, such as the health department. It can also be designed to offer to municipalities via an intergovernmental agreement if desired.
If accepted, the administrative adjudication process would not be started until after November, when funds can be budgeted to start it. Once it is up and running, costs for a hearing officer and clerical processing could be covered by fines and fees that are collected.
Colter will be presenting the administrative adjudication process to the full county board in a couple of weeks. The board will be given a month to look at it and consider the many variables.
At present, "We have no vehicle to get compliance," committee member Dale Voyles said. This gives us an opportunity to put both together, a review of our ordinances from a current perspective and the proposed administrative adjudication process for the new comprehensive plan, he said.