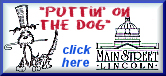 Registration begins at 8:30, with special attractions leading the pet parade to the courthouse at 9:30. If you want to just walk in the parade, that is free. However, if you want to be eligible to win one of the door prizes, the cost is $5. Dog-sitters will be provided if owners would like to do some shopping.

You can also do an early registration of your dog for the pageant or photo contest or both at $5 each. Pageant categories are best dressed, cutest, most kisses in 15 seconds, most spots (real or fake -- be creative), most tail wags in 15 seconds, best dancer, best pet trick and Abe's choice. The photo contest (submitted snapshots may be altered) has categories of pet and owner look-alike, funniest, cutest, fluffiest, and most unique characteristics. If registering the day of event, a $2 assessment will be added for the pageant and photo gallery contests.

After enjoying the parade, pageant and photo gallery, educational activities will be held at Scully Park. "Pet Ownership is Not Just a Walk in the Park" will feature wading pools for the dogs as well as some demonstrations and displays. Adoptable dogs will also be a part of the fun. Logan County Animal Control will be asking for the community to "Stuff the Doghouse" with donations for the shelter. So bring old collars, blankets, toys, food or anything else that these loving animals might need.

[to top of second column in this article]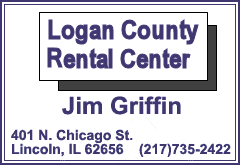 Many donations and sponsorships have been provided by the following:
Donations -- Abe's Carmelcorn, Action Rental, Beans & Such, Big Paws, Hallmark, IGA, Jonie Tibbs, MKS, Mustard Moon, Prairie Years, Pet Grooming by Toni, Serendipity Stitches, Sherwin Williams, Sports Plus and Treasure Chest.
Sponsorships -- Advanced Carpet Cleaning, Best Friends Animal Hospital, Cha-Dai Pet Motel, Farmer's Insurance - Aaron Freitag Agency, Lincoln Animal Hospital, Marilyn Wheat, Pet Grooming by Toni and Unique Images.
For registration information, please contact Main Street Lincoln, (217) 732-2929. Each registered dog will receive a goody bag and collectable bandana.
[Main Street Lincoln news release]