We have received news of two of our own who have been serving us faithfully in our armed forces in Iraq.
Touched by sacrifice
First, our condolences to the Gresham family in the loss of Daniel. Twenty-three-year-old Daniel was born and raised here. He was wholeheartedly serving his country in Iraq when he lost his life in an explosion on Thursday. Our sympathies to his parents, Robert Gresham, of West Plains, Mo., and Esther Choe Yu Chin Gresham of Chicago, his siblings and his many relatives in and around Lincoln.
We dedicate today's column to you.
Welcome home, Billy Barmes
We also must celebrate when one of our own returns home safely. That's just a bigger story to me than anything that could possibly be happening around here. I'm one of those people who try (and I'm sure I fail miserably at this at times) to never take these situations for granted.
Whether it's prayer for the troops, packing and sending and financing gift goody boxes, or sending cards and e-mails, I want to do my part… even though I realize that my part might be the smallest part on the planet. At any rate, before one letter on the keyboard was struck devoted to sports this week, I just wanted to say welcome home, Billy, and this week's "FANdamonium" is dedicated to you!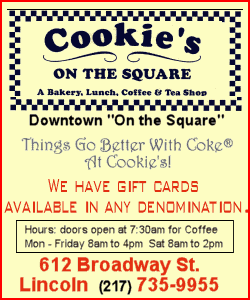 Railers and Illini claim outright titles
If you were a basketball fan trying to pick a part of the country to live in, I'd have to suggest to you for your consideration, central Illinois.
First, you've got one of the most overachieving high school squads in the form of the Lincoln Railsplitters. Though they have little size or height, they play tenacious defense, execute the heck out of their offensive sets, shoot the eyes out of it (that statement is a tribute to former Illini coach Lou Henson), and get up at 7-7:30 in the morning to practice free throws in case they're needed in a big game.
Oh, and by the way, Friday night at Springfield Sacred Heart-Griffin they were called on to make a few free throws in the final seconds of the game to salt away the outright CS8 championship. Their response? They casually tossed in only 18 of 19 to secure the title. Nice going, guys!
Or you could slide over to Champaign, home of the Illinois Fighting Illini. These guys haven't done all that much the last few years. Unless, you consider five titles in eight years not much. I don't think we had won five in the last 50-75 years previous to that. The Illini also won a Big Ten tourney title Brian Cook's senior year, just for some frosting on the cake. This year they have yet to lose a BT game, or ANY game for that matter. And when Michigan State absorbed a bad loss at Indiana yesterday, Illinois had claimed another championship! This was their second outright title in as many seasons, and it marked the first time they had done that in over 50 years. But I digress…
Redbirds also having a good year…
So, I would mention them as further evidence to live here for good hoops. Though ISU has struggled of late, they are a very dangerous team. A win tonight and or a couple of wins in the MVC tourney could go a long way toward determining their postseason fate. At the least, they deserve to host an NIT game and see what happens from there. Lincoln's Gregg Alexander will be honored tonight as ISU entertains the always-tough Creighton Bluejays on Senior Night.
I laughed when some people asked why Gregg is going there. I think they were implying that he might not fare all that well there. He only managed to score 1,000 points, become the all-time leader in 3-point field goals and will walk away ranked in the top five of many other categories. They were wrong.
I never doubted him, because he is the toughest-minded kid and one of the smartest athletes I have ever been around in any sport. If my son decides to play ball, I hope he plays a lot like Gregg. The LDN salutes Gregg Alexander on an outstanding ISU career.
It also marks the last of six straight years Lincoln has had a representative in D-I basketball… and it might even make seven, counting Alexander, Brian Cook and Stephanie Reichle. But, I want to pose a question: Who will be next?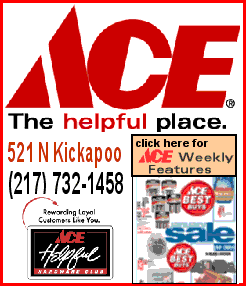 Don't forget, your chance to see Brian comes Friday, March 18, at Indianapolis. There are several ways to get your tickets. Call the Pacers at (317) 239-5151 or toll-free (800) 4NBATIX or you can log on at Ticketmaster.com.
Don't forget, your chance to see Brian comes Friday, March 18, at Indianapolis. There are several ways to get your tickets. Call the Pacers at (317) 239-5151 or toll-free (800) 4NBATIX or you can log on at Ticketmaster.com!
Lady Railers almost extend their season
It took two overtimes to decide the outcome. However, in the end Champaign Central eked out a 69-58 victory over one of the gutsiest Lady Railer squads we've seen in a long time.
Though neither the girls nor their coaches are offering up any excuses, when you consider how far this team came, you might even wonder what might have been. I'm speaking of injuries, bad bounces and breaks and how things might have transpired for them. In spite of all that, they went out there and fashioned a 17-11 season together. A lesser team might have folded their tent content with a .500 season. But not these Lady Railers. They continued to perform right up to the final seconds of their season. That is a tribute to these players and to this coaching staff. The LDN salutes you in every way!
Road trip…
I have an interesting one for you to try if you like maple syrup. This is the time of year the sap/sugar water is running, and people are cooking up that sweet stuff all over the Midwest.
You may want to check out the Sugar Shack just outside of Marshall, Ind. (Turkey Run, Ind.). Go east on Interstate 74 through Illinois and on into Indiana. Go south (turn right -- I think it's Exit 15) on 41. You'll go 20 or more miles (this is quite a scenic route) until you get to 236. Turn left (east) on 236 and you'll go through the picturesque town of Marshall, and then you'll go through Guion. A couple miles and a few hills later you'll come down a hill before it comes to a huge hairpin curve, and you'll turn right (south) on a dirt road and follow it toward Baird's Lumber/Saw Mill. After you go a little ways, you'll see the mill on the hill to your right. Turn left (toward Baird's Sugar Shack) and follow the rock road all the way down to the Sugar Shack, situated right on the Little Raccoon Creek.
It is quite a process to watch them cook up the syrup, and talk about delicious… I could go for some right now.
This is a great scenic little place. There is a huge eagle's nest right across the creek, and if you're lucky you'll see the eagles flying around or sitting in the nest.
If you like this place, thank me; if not, you can blame my wife because her cousin is running the place. And yes, I know there are places around here that do the same thing, and I support them wholeheartedly. This is just for the many readers who have cabin fever, like to throw the family in the minivan and take a little day trip.
The Sugar Shack is open Saturday and Sunday, March 5-,6 from sunup to sundown. Tell 'em you know us and they may give you a discount on maple syrup and sorghum… On the other hand, they may not!
Area colleges enter the postseason
Still awaiting results, but this is what we know…
LCC men's team lost to Marantha, and their season is over. LCC's women also lost, but rumor on the streets of Lincoln early this morning was that the Angels received an at-large bid to the national tourney, which I think is being played in Clearwater, Fla. At this point I have not heard anything about Lincoln College's teams as to seeds, opponents and so on. But stay tuned, and we'll try to bring you that info as we get it! And, good luck, Angels!!!
Local high school hoops teams complete successful campaigns
Though I'm sure their respective seasons ended sooner than they hoped, Hartsburg-Emden, Illini Central and Mount Pulaski all completed stellar seasons. The LDN salutes the players and coaches of these tradition-rich programs! We also extend best wishes to Warrensburg-Latham as they march on in Class A play.
There is probably a lot more that I am missing, but that's it for now. Have a great week, everybody!