Legislation eases financial pressures for military
Under legislation pending before the state Senate, Illinois residents serving on active military duty overseas, and their families back home, would have fewer day-to-day financial worries.
Known as the Illinois Patriot Plan, Senate Bill 2060 provides that members of the U.S. armed services or Reserve forces, or members of the Illinois National Guard who are deployed on active duty, or the spouse of one of those service members, may terminate a cellular phone contract without a penalty.
The men and women serving overseas in the military face the daily stresses of active duty and should not have to worry about financial matters back home. This legislation is based on a similar program in Ohio and should help ease some financial pressures and worries.
Senate Bill 2060 also allows the Illinois Department of Central Management to enter into a contract to purchase bulk long-distance telephone services and make them available at cost to members of the immediate family of service members deployed on active duty so that they may communicate.
Other provisions of the legislation address the following financial issues:
Life insurance policies -- An individual life insurance policy insuring the life of a service member who has been deployed for active duty shall not lapse or be forfeited for the nonpayment of premiums during the service member's period of military service or during the two-year period subsequent to the end of the service member's period of military service.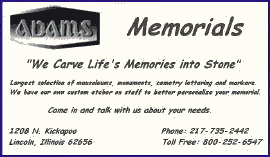 Gas-electric assistance -- In case of nonpayment, no municipal or public utility or electric cooperative shall cut off gas or electricity to the residential premises of a consumer who is a service member deployed on active duty. Allows the service member, upon return from deployment, a period equal to the person's deployment to pay any money owed during the period of the deployment.
Rent assistance -- The court may delay eviction proceedings for a period of 90 days or adjust the rental obligation to preserve the parties' interests if the resident is a service member deployed on active duty or any member of the immediate family.
Credit interest and finance charges -- Creditors cannot charge or collect from a deployed service member or the spouse of that member interest or finance charges exceeding 6 percent per annum during the period that the member is deployed on active duty.
Motor vehicle leases -- Any service member who is deployed for a period of not less than 180 days, or his or her spouse, may terminate any motor vehicle lease.
Senate Bill 2060 has been passed by the Environment and Energy Committee and awaits further action before the whole Senate.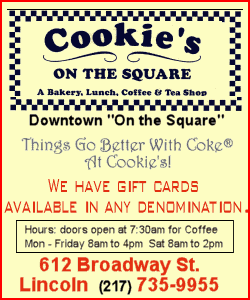 State program helps owners find property
Illinois State Treasurer Judy Baar Topinka is looking for citizens who might have property and assets they might have forgotten or never knew existed.
Many area residents have some abandoned property in their name, and this property can be claimed. Most claims consist of assets exceeding $100.
Unclaimed property can range from bank accounts opened years ago to jewelry in a forgotten safety deposit box or uncashed payroll checks. When these assets have been abandoned or inactive for five years, the person holding the property is required to try to locate the owner.
If the owner can't be found, the assets are then turned over to the state treasurer's office, which holds the assets until they are claimed by the owner or heirs of the owner's estate.
Area residents who want to know if they have abandoned or unclaimed property in their name should contact the Office of State Treasurer Judy Baar Topinka, Unclaimed Property Division, P.O. Box 19495, Springfield, IL 62794-9495.
All inquiries must be in writing and include the name, address and county of the claimant. The state treasurer's office will provide specific information about the asset being held and how to claim the property.
New federal law provides yearly credit checks for free
Illinois consumers can obtain free credit reports at an official clearinghouse website or by calling a toll-free number and do not have to pay for services being offered on copycat websites.
In a press release on Thursday, Attorney General Lisa Madigan reminded consumers that the free annual credit reports are available only through the centralized source set up by the three national credit reporting agencies.
To obtain the free reports, consumers can call 1 (877) 322-8228, order online at www.annualcreditreport.com, or complete the request form available at www.ftc.gov/credit and mail it to Annual Credit Report Request Service, P.O. Box 105281, Atlanta, GA 30348-5281.
[News release from Sen. Bill Brady]