State fire marshal reminds people to change batteries in smoke alarms when changing the clocks

Send a link to a friend
Working smoke alarms critical to saving lives
[APRIL 1, 2006] SPRINGFIELD -- State Fire Marshal David B. Foreman reminds people to change the batteries in their smoke alarms this weekend as they change their clocks to daylight-saving time.
"In the past three decades, residential smoke alarms have helped cut home fire deaths by half," said Foreman. "While most homes today have smoke alarms, not all are in working condition, because the batteries have been removed or are depleted. We encourage people to develop a regular routine and change the batteries in their smoke alarms at the same time they change their clocks. It's really a very simple thing, but it can make a life-or-death difference."

Foreman said it's also important for families to develop and practice a plan for quick evacuation if the smoke alarm sounds. Plans should include multiple exit routes from the house and a meeting place at a safe distance outside the home.

Smoke alarm tips:
Install smoke alarms on every level of your home, including the basement, making sure there is an alarm outside every separate sleeping area.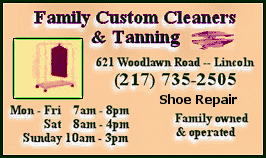 Test your smoke alarms once a month.

Don't disable smoke alarms, even temporarily.

Replace smoke alarms once every 10 years.

Consider installing smoke alarms with "long-life" (10-year) batteries.

If you or someone in your house is deaf or hard of hearing, consider installing an alarm that combines flashing lights, vibration and sound.

If you're building a new home or installing an existing one, consider installing an automatic home fire sprinkler system. Sprinklers and smoke alarms together cut your risk of dying in a home fire 82 percent, relative to having neither.
[News release from the Office of the Illinois State Fire Marshal]