New features at this year's Abraham Lincoln National Railsplitting Contest & Crafts Festival Sept. 15-17

Send a link to a friend
[APRIL 17, 2006] Lincoln has long been home to the Abraham Lincoln National Railsplitting Contest and Crafts Festival, now in its 36th year. This year, several new events tie in with the time-honored festival that has emphasized the 1800s way of life and the learning experience it provides to children and adults. The event remains a family-oriented, nonalcoholic festival.
The new events begin on Friday evening, Sept. 15, with a Civil War ball at the American Legion Hall. Come and enjoy period music and dances of the Civil War as you walk back in time. Don't worry about knowing how to dance; the simple steps will be taught to one and all at the beginning of the night. Refreshments will be served.

The fun does not stop there, though, because the Logan County Fairgrounds will again play host to the festival on Saturday and Sunday, Sept. 16 and 17. Step back in time to the 1850s as you walk through the Pioneer Village. Take a look at all of the crafts on display and for sale, see the quilt show displays, take a ride on the Steam Show train, and watch the railsplitting action on the track. Events will be held on the track all day Saturday and continue on Sunday, culminating in the National Railsplitting Contest. You'll probably see Abraham and Mary Todd Lincoln at the event as well -- be sure to say "hello."

New features this year also include the expansion of booths and displays and merchandise, plus a new commercial vending area. Saturday night will end with a bluegrass concert on the fairgrounds.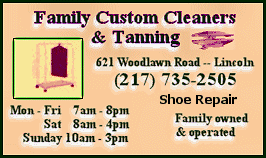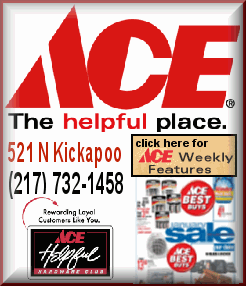 Also during the event will be a Capt. Bogardus trap shoot at the Lincoln Sportsman Club on Saturday. Vintage "rounders" baseball tournaments will be played Saturday and Sunday at the fairgrounds. The Logan County Genealogical and Historical Society will host a cemetery walk through one of the historic cemeteries of Lincoln to complement the festival. Throughout the weekend, downtown Lincoln will host Scarecrow Days as well, so be sure to drop by and take a look at all the fun and exciting stores there. Postville Courthouse State Historic Site and the Lincoln College Museum are both planning to be open during the festival, and as always, there are plenty of Route 66 attractions in town to see.
For area businesses and organizations, sponsorship opportunities are now available, and they include weekend passes, vendor booths and featured recognition in event promotions. Applications for vendors are available now at very reasonable prices.
So, bring your cameras, get your dancing shoes on, and come out to the 36th annual Abraham Lincoln National Railsplitting Contest and Crafts Festival, from Sept 15 to 17. The complete schedule and details will be released soon. For more information, please contact the Abraham Lincoln Tourism Bureau of Logan County at (217) 732-8687, or visit the new Logan County Railsplitting Association site at www.railsplitting.com.
[News release from the Abraham Lincoln Tourism Bureau of Logan County]