On hand to accept the honorary sign for the three-generation family-owned farm were Iola Gehlbach, her son Gerald "Jerry" and his wife, Nancy Gehlbach.

Adolf Gehlbach purchased the first parcel of the farm, located south of Lincoln, in 1902. It is unknown for certain whether it was 160 or 220 acres.

Later, his son Albert and wife Iola joined in working the farm. They built the house in 1938. In the 1940s the farm was turned over to them.

Now Jerry and Nancy are farming the property and live in the family homestead. Iola still lives near the farm.

Jerry expanded the farm to 706 acres. It is now a combination of bean and corn crops, and he's added pork production. The family owns Heritage Pork Farm Inc.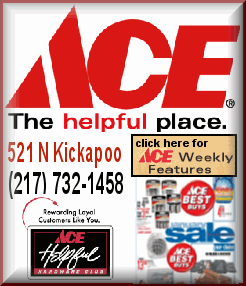 The family incorporated ecological, environment-friendly practices even before it was fashionable. Manure is collected and used on the row crops. Gehlbach said that the recycling method is less costly than commercial fertilizer also.
They've been working with equipment manufacturers that have advised them on odor and runoff control for 25 years.
They still have annual soil tests that measure nitrogen and phosphates to be sure those stay within EPA standards, Gehlbach said. But he's been doing it so long he pretty much knows where his readings will be from one year to the next.