"Miscanthus is now a commercial crop in Europe," said Long. "They've been growing it in Denmark for 30 years. It's used in Japan as a thatching material too. I saw that it had considerable potential when I worked in Great Britain, and then when I came to the U.S. one of my graduate students asked, 'Why don't we grow it here?' We've been doing trials ever since and having some remarkable success."

Long and Heaton got the original plantings from the Chicago Botanical Gardens. They have been conducting side-by-side comparisons of a similar North American plant called switchgrass to the European miscanthus. Switchgrass has been promoted as a future biomass crop for the Midwest and was mentioned in the president's 2006 State of the Union address.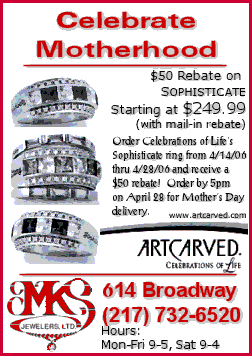 In aerial views, the growth difference is obvious. The switchgrass plots next to miscanthus look like squares of indoor-outdoor carpeting alongside squares of a dense shag rug.
In the 2004 trials, miscanthus outperformed switchgrass by more than double and in the 2005 trials more than triple. Long says, "Our results show that with miscanthus the president's goal of replacing 30 percent of foreign oil with ethanol, derived from agricultural wastes and switchgrass, by 2030 could be achieved sooner and with less land."
Long is looking to the future. Currently, Illinois consumes 5 billion gallons of liquid fuel per year. He says that if just 10 percent of Illinois's 35.6 million acres of farmland were dedicated to growing miscanthus, it would yield enough dry mass to provide 4 billion gallons of fuel. There has been no breeding of miscanthus, so it is likely yields could be increased yet further.
Heaton said that because of the high yields with minimal inputs, farmers would make a profit if they received about $20 per ton. "The closer the field is to the processing plant, the cheaper it gets," she said.
But there are still some barriers to miscanthus being welcomed commercially. One is the planting cost, which is also true for converting corn residue to ethanol. It is expected that improved understanding of propagation and engineering of planting machinery could reduce this substantially. Another possible negative is that some related strains of miscanthus are fertile and so may become invasive.
The type of miscanthus that Long and Heaton study is a sterile hybrid between two species, and Long says it is infertile. "It's like when you cross a horse with a donkey and get a mule -- vigorous, but sterile." Long-term trials and environmental impact studies in the European Union, from Sicily in the south to Denmark in the north, have confirmed this lack of any invasive risk with the sterile hybrid.
Positive environmental benefits have also been found in Europe. Miscanthus provides cover for breeding birds throughout the summer and fall, unlike the row crops it replaced, and with little or no nitrogen requirement it has decreased pollution of groundwater and rivers.
In the meantime, Long and Heaton will continue to conduct trials. And Long says that there is a lot of interest from Illinois farmers in growing miscanthus as a crop. Adoption, though, will depend on the creation of markets for such biomass. Pellet-burning stoves, purpose-built biomass heat and power plants, and cellulosic ethanol plants are the most likely markets to develop here in Illinois.
[University of Illinois College of Agricultural, Consumer and Environmental Sciences news release]