CIEDC foster grandparent program celebrates 39th year

Send a link to a friend
[APRIL 28, 2006] On April 21, it was time to recognize 54 senior citizens who work with the foster grandparent program at CIEDC. The annual appreciation luncheon was held at Jefferson Street Christian Church in Lincoln.
The foster grandparent program, coordinated by CIEDC, brings seniors together to provide one-on-one mentoring to children with special needs in CIEDC Head Start programs, day cares and several public schools. The program is active in Logan, Mason, Menard, Macon, DeWitt, Fulton and Piatt counties.

Inis Birdwell of Lincoln was recognized for 21 years of service as a foster grandma. Dorothy Heeg, who has worked as a foster grandma for 19 years, received an award for the most lifetime hours. Heeg, of Lincoln, has worked 19,532 hours with the program. The foster grandpa with the most lifetime hours, Jefferson Joyner of Decatur, has been with the program for 15 years and has served local children with 13,510 hours. All the foster grandparents who currently work with the program have served 413,571 hours.

Grandpa Bill Rhoades of Lincoln also received an award for his assistance in a CIEDC Head Start classroom. "Grandpa Bill is always willing to do anything to help the kids and staff," said Meta Burlington, the teacher. "He transports small zoo animals from the Decatur Zoo about every other week and shares them with the other Head Start centers in Lincoln. He participates in all our special class days with zany hats, costumes and stuffed animals."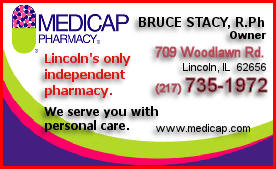 Paula Gregg, foster grandparent director at CIEDC, is proud of the work her foster grandparents do every day. "Imagine what a harmonious world it could be if every single person, both young and old, shared a little of what he is good at doing," said Gregg.
Any citizen who is 60 or older is eligible to participate in the program. Foster grandparents receive a tax-free stipend for their work in the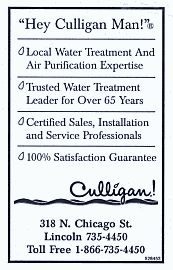 program.
CIEDC is a Community Action Agency that serves the children, low-income and elderly in central Illinois.
[Central Illinois Economic Development Corp. news release]