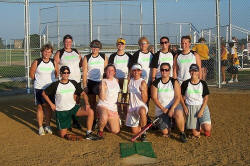 The standings weren't decided until the last game of the season. Characters and Dirt Divas, sponsored by Shelter Insurance, were tied for the trophy, with six wins and no losses for each team. Characters handed Dirt Divas their first loss in an 11-1 game, thus placing Characters Pub in first and Shelter Insurance in second.
Tournament seeds for third, fourth and fifth places were undetermined until the last game as well. Season-end standings resulted in CEFCU placing third, Bud Light in fourth, Clinton in fifth, Logan Lanes sixth place, and rounding out the seeds were Ball Crushers and Thrivent.
Tournament play Tuesday night begins at 6:30 and will continue until the trophies and T-shirts are presented. All games are at 1400 Primm Road.
[Provided by Roy Logan, Lincoln Park District]