State grant assistance available to help eligible residents afford high summer electric bills

Send a link to a friend
[AUG. 3, 2006] SPRINGFIELD -- With temperatures topping 90 recently, most people have been forced to turn on and turn up their air conditioning. State Sen. Larry Bomke, R-Springfield, says that, unfortunately, the additional electric costs often pose a significant financial burden for a number of Illinois residents, and he is encouraging eligible households that need assistance to apply for grants through the Low Income Home Energy Assistance Program.
Bomke explained that LIHEAP is a state- and federally funded energy assistance program, run by the Illinois Department of Healthcare and Family Services, that helps pay the electric bills of households with incomes of up to 150 percent of the federal poverty level.

"The cost of cooling one's home during the summer months is always high; the extra expense coupled with the current high gas prices have many Illinois families struggling," said Bomke. "The risk of heat-related injuries and even death becomes a serious concern when the temperatures become as high as they have been, particularly for our elderly and disabled citizens. No Illinois resident should have to choose between cooling their home and putting food on the table, which is why LIHEAP was established."

Program recipients receive a one-time benefit for the energy bills, which is determined by household income, size, fuel type and geographic location. Bomke noted that applicants do not have to receive an overdue bill or cut-off notice before applying for the program.
Interested parties are encouraged to submit an application for assistance to the local agency that serves their area. The Department of Healthcare and Family Services will consider applications on a first-come, first-serve basis beginning July 31 through Aug. 18. Applicants will be notified within 30 days regarding the amount of assistance they are eligible to receive.
A single-person household with a monthly income of up to $1,225 can qualify for the program, and a two-person household of up to $1,650 is eligible, while a family of four can earn up to $2,500 and still qualify for LIHEAP assistance. Applications will be accepted until all funding has been allocated.
Bomke suggested that interested residents bring the following information with them when they apply for assistance: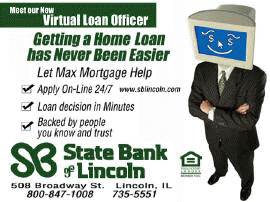 A copy of current heat and electric bills if you pay for your home energy directly.

Proof of Social Security numbers of all household members.

If a member of the household receives Temporary Assistance to Needy Families, you must bring their "Medical Eligibility Card."

If you rent, bring proof of your rental agreement stating your monthly rent amount.
Interested 50th District residents are encouraged to contact the representative in their county for additional details:
Logan County
Central Illinois Economic Development Corporation 1800 Fifth St.
Lincoln, IL 62656-9117
Telephone: 217-732-2159
Hours of operation: 8 a.m.-4:30 p.m.
Web: http://www.ciedc.org/
Menard County
Central Illinois Economic Development Corporation
1800 Fifth St.
Lincoln, IL 62656-9117
Telephone: 217-632-3137
Hours of operation: 8 a.m.-4:30 p.m.
Web: http://www.ciedc.org/
Sangamon County
Sangamon County Department of Community Resources
200 S. Ninth St., Room 311
Springfield, IL 62701-1681
Telephone: 217-535-3120
Hours of operation: 8:30 a.m.-5 p.m.
Web: http://www.co.sangamon.il.us/
Departments/resource.htm
[News release from Sen. Larry Bomke]