Calendar listings for this page are based on announcements provided to Lincoln Daily News.
Please let us know about upcoming events. Thank you.
August | September | October | November | December
August 2006
---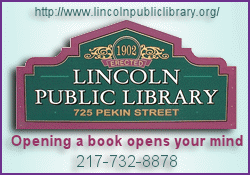 Aug. 1-6
SPONSOR: Logan County Fair Association
WHO: Public
WHAT: Logan County Fair
WHERE: Logan County Fairgrounds
Saturday, Aug. 5
SPONSOR: Lincoln Community Theatre
WHO: Public, by admission
WHAT: "Meet Me in St. Louis"
WHERE: Johnston Center for Performing Arts, Lincoln College
WHEN: 8 pm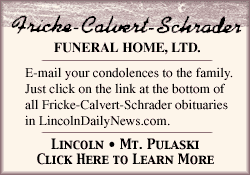 Aug. 6-10
SPONSOR: Jefferson Street Christian Church
WHO: Children age 2 1/2 through sixth grade
WHAT: VBS: "Fiesta"
For more information, call 732-9294.
WHERE: 1700 N. Jefferson
WHEN: 9-11 am, ages 2 1/2-4; 6-8:30 pm, grades K-6
Monday, Aug. 7
SPONSOR: Lincoln Christian Church
WHO: Public
To sign up toll-free, call 1-866-GIVE-BLD [1-866-448-3253], ext. 56,
WHAT: CICBC blood drive
Watch for more information in Lincoln Daily News.
WHERE: Lincoln Masonic Center, 2022 N. Kickapoo
WHEN: Noon-6 pm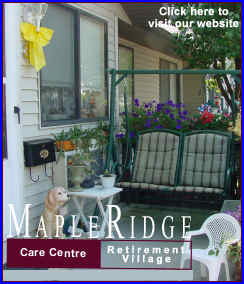 Saturday, Aug. 12
SPONSOR: Logan County Joint Solid Waste Agency
WHO: Public
WHAT: Glass collection
[See article.]
WHERE: Wal-Mart parking lot
WHEN: 9 am-noon
Friday-Sunday, Aug. 25-27
SPONSOR: Lincoln/Logan County Chamber of Commerce
WHO: Public
WHAT: Lincoln Art & Balloon Festival
WHERE: Logan County Airport and downtown Lincoln
Sunday, Aug. 27
SPONSOR: Postville Courthouse
WHO: Public
WHAT: 1800s Craft Fair
WHERE: 914 Fifth St.
WHEN: 10 am-4 pm
August | September | October | November | December
Another online community calendar is posted by the Abraham Lincoln Tourism Bureau of Logan County.