Two sent to hospital after I-55 crash

Send a link to a friend
[AUG. 8, 2006] A two-vehicle accident 2 1/2 miles north of Lincoln sent two Glenview residents to the hospital on Monday afternoon. The accident occurred at 3:10 p.m. near mile marker 135 in the northbound lanes of Interstate 55.
Nina L. Brousseau, 61, was traveling northbound in a 2001 Chrysler with her passenger, Lawrence F. Brousseau, 63. Mrs. Brousseau was driving in the left lane and changed to the right lane, where the front of her Chrysler struck the rear of a 2003 Oldsmobile Silhouette van. Brousseau lost control of her vehicle and entered the median. She attempted to correct, traveled back across both northbound lanes and struck a bridge railing on the east shoulder. Brousseau's vehicle came to final rest on the east shoulder.

The van that was struck was driven by Kataya Popova, 44, of Broken Arrow, Okla. She pulled onto the east shoulder and stopped after the collision.

Popova and her passengers, Lyubomira M. Popov, 17, Miroslav M. Popov, 15, and Mitko N. Popov, 42, all of Broken Arrow, Okla., were not injured.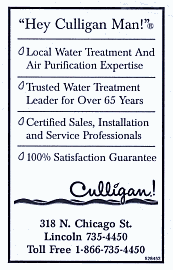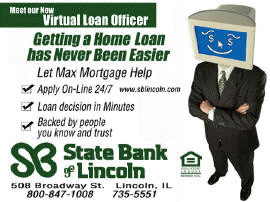 Nina and Lawrence Brousseau were transported to Saint Joseph's Medical Center in Bloomington with non-life-threatening injuries.
Brousseau's vehicle received major damage and was towed from the scene. The
Popova vehicle was driven from the scene.
The Logan County Sheriff's Department and Logan County Fire and Rescue assisted Illinois State Police at the scene.
Brousseau was issued a citation for improper lane usage.
[Illinois State Police; LDN]