Illinois farmland values up

Send a link to a friend
[AUG. 28, 2006] URBANA -- In 2006, Illinois farm real estate enjoyed its best year on record, with the per-acre average at $3,800, said a University of Illinois Extension farm management specialist.
"This figure was 14.1 percent higher than the revised 2005 average of $3,330 per acre," said Dale Lattz. "The 2005 revised figure was 27.6 percent higher than 2004 and was the highest increase since a 37.3 percent increase in 1977.

"The 2006 percent increase was the second-highest since 1979."

Farm real estate values have shown a year-over-year increase every year since 1988, Lattz noted, or for 19 consecutive years. Since 2000, Illinois farm real estate values have increased 68 percent.

The figures were calculated by the USDA's National Agricultural Statistics Service, which releases estimated farm real estate value and cash rents by state. The estimates are based on surveys of farmers from selected geographical areas and follow strict statistical guidelines.

"The average farm real estate value figure includes the value of all lands and buildings," Lattz noted.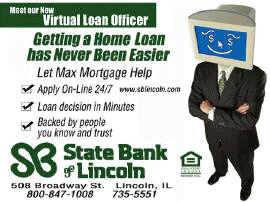 Since 1970, average farm real estate values have declined only five times as compared with the previous year. Those years were 1982, 1983, 1985, 1986 and 1987. There have been four years when farm real estate values increased over 20 percent -- 1974, 1976, 1977 and 2005. The largest increase was in 1977, when values rose 37.3 percent.
"In a survey by the Illinois Society of Professional Farm Managers and Rural Appraisers, the top three factors given for the recent increases in farmland values are the large number of 1031 buyers -- those who are buying land to replace land they sold to avoid capital gains tax, the limited supply of farmland, and low interest rates," Lattz said.
The full report, "Increase in Illinois Land Real Estate Values Accelerates," is available online at http://www.farmdoc.uiuc.edu/manage/
newsletters/fefo06_13/fefo06_13.html.
[University of Illinois Extension news release]