St. John Church increases its gift of coats, hats and mittens for local children

Send a link to a friend
[DEC. 12, 2006] One hundred and twelve coats for Logan County children, plus hats and mittens to match -- these gifts were showcased on Sunday at St. John United Church of Christ.
For the 16th consecutive year the Mission Committee of the church purchased new coats and presented them for members to view prior to delivery to Central Illinois Economic Development Corp. In addition, the St. John Charity Guild collected 103 hats, 119 pairs of mittens and gloves, and one scarf. All will be distributed by CIEDC on Friday.

"I'm just so excited," said Verdeen Ingram of rural Lincoln, who chairs the coat project. "This is the most coats we've ever had in one year." She attributes the increase to larger donations, including proceeds from the Charity Guild silent auction at Germanfest, and to good prices.

Ingram bought a few coats on sale last January with money donated after the 2005 distribution. All the rest she purchased recently on sale at Goody's. Ingram said she is delighted to be able to buy so many jackets locally.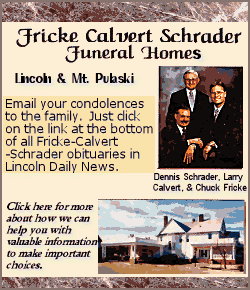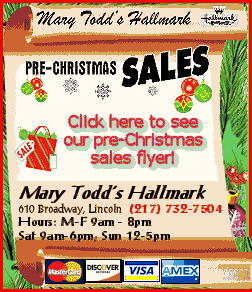 The committee undertakes the project "because local kids need it, and it's one of the best things I can think of to do for the community with our offering money," Ingram said. Two years ago the church reached the milestone of donating 1,000 jackets.
Marlene Wilmert, president of the Charity Guild, said that most of the accessories this year were knit by Barb Bauer of Lincoln with yarn donated by the guild. Bauer provided 100 sets of hats and mittens.
Wilmert said the organization started collecting hats and mittens several years after the coat project began. "We did it just to enhance the project," she said. "Besides coats, the children need something for their hands and heads."
[News release]