Bearing the words "For President, Abraham Lincoln" and "For Vice President, Hannibal Hamlin" as well as a likeness of Lincoln, the 6 1/2-by-5-foot 1860 presidential campaign banner was installed in the Old State Capitol on Tuesday following six months of restoration that will preserve this unique piece of history for generations to come. The banner had hung in the site for many years prior to the restoration, and visitors may once again see it on the building's top floor, just outside the legislative chambers.

"The Lincoln-Hamlin banner helps the Old State Capitol tell an important part of the Lincoln story," said Justin Blandford, site manager. "It helps us shed light on the effort that was put forth to win the election and at the same time provides an opportunity to discuss Lincoln's first vice president, Hannibal Hamlin, who has been nearly forgotten. The conservation work that was conducted on this banner will help ensure its future preservation and will enhance its appearance for the guests who come here to enjoy it."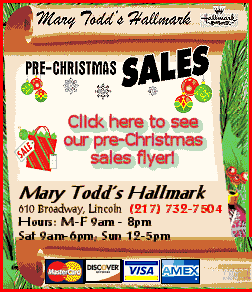 The restoration was performed by the Chicago Conservation Center. The $3,650 restoration cost came from the budget of the Illinois Historic Preservation Agency, which administers the Old State Capitol. The banner was acquired and installed during the time the building was disassembled and completely restored in the late 1960s.
The Old State Capitol has many direct, close ties to Abraham Lincoln. He was one of several state legislators, dubbed the "Long Nine" because all were more than 6 feet tall, who voted to move the capital of Illinois from Vandalia to Springfield, where the Old State Capitol opened in 1839. He served in the building as a state representative, argued cases there as an attorney in the Supreme Court chambers and did extensive research in the building's law library. Lincoln made his famous "House Divided" speech, outlining his stance on slavery, from the Hall of Representatives in 1858. Lincoln monitored voting results in the Old State Capitol and greeted well-wishers there following the presidential election. Finally, Lincoln's body lay in state in the Hall of Representatives in May 1865 during his final funeral service.
Hannibal Hamlin, 1809-1891, was Abraham Lincoln's running mate in 1860 but was dropped on the 1864 ticket in favor of Andrew Johnson, a Tennessee War Democrat. Hamlin had a long and distinguished political career before and after his association with Lincoln. He was a congressman representing Maine from 1843 to 1847, U.S. senator from 1848 to 1861 (interrupted briefly in 1857 when he served as governor of Maine) and 1869-1881. Hamlin was also minister to Spain during 1881-1882. He was appointed collector of the Port of Boston in 1865 but quit a year later in disagreement with President Johnson's reconstruction policies.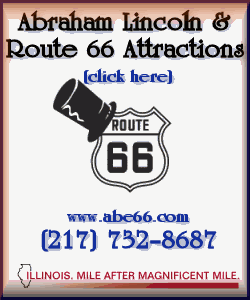 Hamlin's sons Charles and Cyrus were both Union generals during the Civil War. Hamlin's daughter Sarah and son Charles were at Ford's Theater the night President Lincoln was assassinated.
Hamlin was a strong supporter of black rights, pushed for the Emancipation Proclamation and helped win Lincoln's agreement to use black soldiers in the army. He also argued successfully to include New Englander Gideon Welles in Lincoln's cabinet.
However, like many vice presidents before and since, he played only a small role in the president's administration. The vice president did not attend cabinet meetings, and because Mary Todd Lincoln disliked him, Hamlin seldom visited the White House. Aide William O. Stoddard noted: "It seems that a sort of etiquette has been established, in accordance with which it is not considered good taste for the second officer of the Republic to meddle much with public business, and which, at all events, keeps him away from the Executive Mansion."
Hamlin described the position as a "nullity" and complained: "The slow and unsatisfactory movement of the government do not meet with my approbation, and that is known, and of course I am not consulted at all, nor do I think there is much disposition in any quarter to regard any counsel I may give much if at all." Hamlin's attempts to secure patronage appointments also frustrated him: "I am only a fifth wheel of a coach and can do little for my friends."
Still, Hamlin always respected Lincoln, saying of their relationship: "I always gave [President Lincoln] my views, and when asked, my advice. His treatment of me was on his part that of kindness and consideration, and my counsels had all the more weight with him, that he thus practically knew them to be disinterested and free from any taint of intrigue or factional purpose."
[Illinois Historic Preservation Agency news release]