Those recognized for exemplary service were Mike Webb, Emergency Medical Dispatcher of the Year; Debbie Kimberlin, Dispatcher of the Year; and Julie Rogers, Horse and Rescue Volunteer of the Year.

The Larry Schroyer Award for Lifetime Achievement went to Norma Bathe of the 911 board and to Diane Ruff, office manager and secretary, who is retiring April 1, 2007.

Volunteer of the Year awards were presented by Dan Fulscher, Logan County Emergency Management Agency director, to Devon Vannoy of Atlanta and Mike Patridge of Mount Pulaski.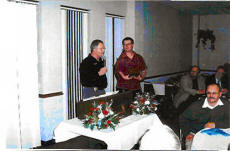 Dan Fulscher and Devon Vannoy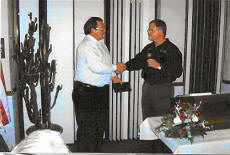 Dan Fulscher and Mike Patridge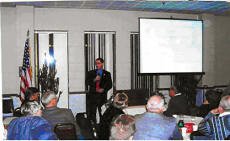 Guest speaker at LCEMA, E911, LEPC awards ceremony, Kevin Eack.
Over 200 volunteers and guests attended the awards dinner, highlighted by a presentation on Illinois homeland security, "Not in My Backyard," by Kevin Eack, senior terrorism administrator with the Illinois State Police Division of Homeland Security.
[articles and pictures by Dale Voyles] click on pictures for larger images