Atlanta motel aiming to attract business and family tourism to area

Send a link to a friend
[FEB. 6, 2006] ATLANTA -- The motel in Atlanta was recently purchased and has changed its name. It is now an Americas Best Value Inn, part of a rapidly growing international chain of motels with over 500 worldwide. The new manager, Naresh Desai, has already done some major renovations and has plans for many more changes that will make the motel a suitable location for business conferences or a great place for family stopovers and getaways.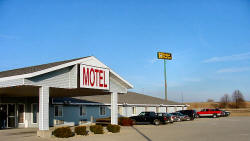 Desai has been working with local officials, tourism and business directors looking for ways to meet business and family lodging needs. He hopes the motel will be a part of attracting more tourism to the Logan County area as the Route 66 National Scenic Byway project ramps up.
The motel is only about a dozen years old and is in great condition. Room renovations include all new linens, high-speed wireless and data port Internet. The reception area has been completely remodeled, a new meeting and business conference area is in the works, and plans are laid to add a deluxe suite and an indoor pool.
Desai is excited about the new building planned that will offer three distinctive and diverse food environments. A pizza fun center is planned to one side, a hamburger-style diner area to the other side and, in the center, something suited to the business person.
The Country-Aire Restaurant across the street has partnered with the motel, and a complementary full breakfast is included with overnight stay.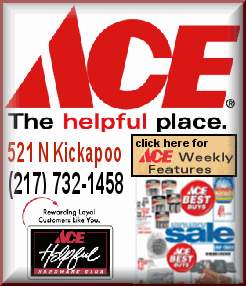 Desai and several corporate officials from Americas Best Value Inn were joined by a number local dignitaries for a grand opening last week. On hand were Atlanta Mayor Bill Martin, Lincoln Mayor Beth Davis, Mount Pulaski Mayor Bill Glaze, Logan County Board Chairman Bob Farmer, Chamber of Commerce Ambassadors with director Bobbi Abbott, development director Rob Orr, and tourism director Geoff Ladd.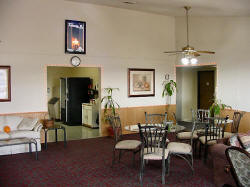 The tourism director has been assisting the motel with promotion and providing tourism racks and brochures. "This facility has tremendous potential, not only with its proximity to I-55, but also because of the Route 66 tourism attractions in Atlanta and in Logan County," Ladd said. He mentioned that the Route 66 Association of Illinois Motor Tour will be coming to Logan County in June -- bringing 250 enthusiasts and filling our motels, including Atlanta.
[Tourism news release; LDN]