Chamber soaring to new heights

Send a link to a friend
[FEB. 8, 2006] Scott Goodman was introduced as the 2006 board president during the recent annual banquet of the Lincoln/Logan County Chamber of Commerce. Goodman, manager of metering products at Eaton Electrical, launched his theme, "Soaring to New Heights," to a luncheon crowd of 120 chamber members and supporters at the American Legion.
Patrick Doolin, president of Integrity Data and immediate past president of the chamber board, reviewed the chamber accomplishments for the past year. "I chose a theme of 'Moving Forward for 2005,' and we most certainly put ideas into action," he said. "The chamber renovated and relocated its offices, and we moved the hot-air balloon activities from the fairgrounds to the county airport. These changes took a tremendous amount of time and resources, but we are now well-positioned for the future."
Doolin recognized retiring board members Mark Hughes of Inland Tool, Mary Conrady of CEFCU and Brian Ash of Logan County Bank before receiving his own keepsake plaque for serving as 2005 board president.
Goodman welcomed five new members to the chamber board: Melody Browning of Ameren, Jake Johnston of Jake's Furnishings, John Hutchinson of Lincoln College, Donna Boyd of Regions Bank and Sharon Awe of Illini Bank. He also provided a preview of programs and services to be provided by the chamber in 2006, including the new Leadership Academy, Ag Day scholarships and a focused attention on improving the "front door" impressions of Logan County.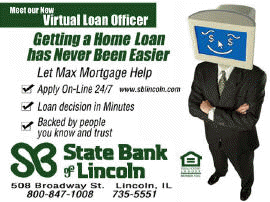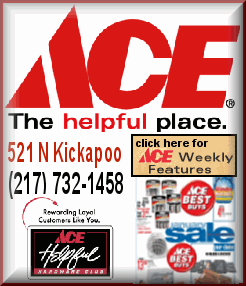 Linda Marini, chairman of the chamber's membership committee, welcomed the newest members of the organization and conducted the initiation ceremony. Participants were Elise Anderson of Champion Fitness; Carrie Fights of RAM Telecom; Jeff Randa of Grand Design; Chris Milliman and Diane Logsdon of Capone's, Elizabeth's and Mystery Ink Theatre; Steve Burgess of Long John Silver's; Corey Leonard of Shelter Insurance; Jim Lindgren of Midwest Publishing & Marketing; Kevin Kuhn of Greene & Bradford; Naresh Desai of Americas Best Value Inn; and Jim Horn of J&S Auto Centre.
[Lincoln/Logan County Chamber of Commerce news release]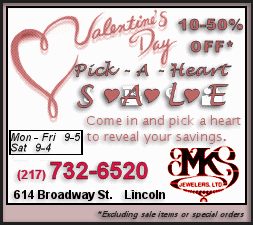 Lincoln/Logan County Chamber of Commerce
Bobbi Abbott
Executive Director
303 S. Kickapoo St.
Lincoln, IL 62656
(217) 735-2385
The local chamber of commerce is a catalyst for community progress, bringing business and professional people together to work for the common good of Lincoln and Logan County.