Lincoln College joins forces with Rotary

Send a link to a friend
[FEB. 10, 2006] Lincoln College students who are looking for a way to help others have a new student group to join. Rotaract, which is sponsored by Lincoln's Rotary Club, is aimed at attracting young men and women ages 18 to 30.
Michelle Williams, Lincoln College director of counseling, is the new club's sponsor. She says the group started with a simple conversation.

"I was talking to Deb Ackerman, who asked if I would be interested in working with a student group associated with Rotary," Williams said. "She told me the group's mission is to work on community-based projects. I thought it was a great idea. I know several of our students had asked me about resources for this, so I said yes."

Williams said they actively recruited students and have about 20 individuals who help with a variety of projects throughout the community. She says the new student group created a constitution and established the criteria for membership.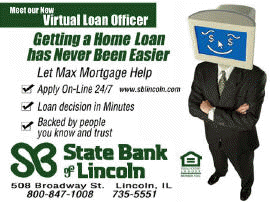 "It was pretty straightforward," Williams said. "We asked the students to attend 60 percent of the meeting and activities and to sign a contract in order to be active and receive club benefits."
Freshman Marty Bolger of Bensenville liked the core values of the group and became the Rotaract president. "The community service thing is something that appealed to me," Bolger said. "At Lincoln College we can really connect with the community and help change the little things that matter the most."
The little things that Bolger mentions include keeping a stretch of old Route 66 clean, helping provide some of the labor for Lincoln's Habitat for Humanity and providing the labor for various fundraising events at Lincoln College.


Lincoln College Rotaract members (left to right) Monique Williams, Marty Bolger, Emma Galt and Abbigale Pazik worked on cleaning up Route 66 near the intersection of Woodlawn Road and Route 10.
Bolger said the work is not hard, but it needs to be done. "It was a great experience," he said. "You get dirty, and I even ruined a good pair of shoes, but I know what I'm doing helps other people and the community as a whole."
Williams said the group from Lincoln College is planning more community events in the future. "At the end of March, we plan to join forces with Bradley University's group to help with the Rotary Young Leadership Awards weekend," she said.
Williams also sees the potential to work on an international project. "I see this as a fundraising effort to help those who are less fortunate," she said. "Our efforts will be educational-based and help buy books for children who don't have access or the resources to get them. I think the idea of service above self is a mission that makes us better individuals."
Rotaract is currently working on raising funds that will buy trash cans to help with the campus beautification project at Lincoln College.
[Jean Ann Miller, Lincoln College]