"Each year we watch hundreds of thousands of people from around Illinois and across the Midwest come through the gates of the Illinois State Fair," Blagojevich said. "This event is not only the premier showcase for agriculture but also boasts top-notch entertainment, fantastic food and a family-friendly atmosphere. It truly is an experience you don't want to miss."

In addition to unveiling the theme, officials announced several changes for the 2006 event, including the expansion of the Sale of Champions. For the first time in the 154-year history of the fair, meat goats will be added to the sale, as well as a new category of grand champions. The Land of Lincoln grand champion steer, barrow and wether will be auctioned off. Land of Lincoln-certified livestock are bred, born, owned and exhibited by a resident of the state of Illinois.

"Livestock is such an important component of Illinois agriculture, and over the last couple years we've started to notice a shift in livestock trends," Hartke said. "After decades of decline, we're beginning to see an increase in livestock production. The Sale of Champions showcases the best of the best, and it's important to reflect the growth in demand by expanding the sale to reflect more of what the livestock industry has to offer."

Building on the commitment to providing a wide variety of family entertainment for visitors, the 2006 Illinois State Fair will also add a number of attractions around the fairgrounds. Several new educational displays are coming to "The Jungle" this year, including "Close Encounters of the Exotic Kind," a mix of royal Bengal tigers and African lions; "Great Little Bear Show," featuring three North American black bears; and "Live Shark Encounter," a shark show in which divers get in to the tank and feed the sharks.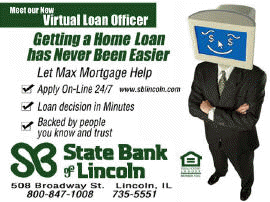 Other changes include the expansion of twilight harness horse racing to three evenings from two; the symphony will be moved from the final Sunday of the fair to Monday night, which is Senior Citizens Day; and grandstand concerts will be offered each Friday, Saturday and Sunday night, totaling six grandstand shows. The truck and tractor pull will also be expanded to three nights, from a day and a half, and moved from the grandstand to the arena.
"We're looking in every corner of the fair to see what worked last year and what we can do better to make sure each and every one of our visitors has a memorable experience at the 2006 Illinois State Fair," Bliefnick said. "We want to keep the fair fresh every year, and by adding new attractions we continue to provide new experiences and create lifelong memories."
Suggestions for the 2006 Illinois State Fair can be e-mailed to illinoisstatefair@agr.state.il.us.
The 2006 Illinois State Fair runs from Aug. 11 to 20.
[News release from the governor's office]