Abraham Lincoln birthday luncheon draws crowd

Send a link to a friend
Distinguished speaker, local awards and cake featured
[FEB. 13, 2006] Nearly 100 Abraham Lincoln enthusiasts gathered in his honor for a luncheon on Saturday. The second annual event was at the Maple Club.
Two local residents were recognized and awarded for their outstanding, continued efforts in bringing attention to Abraham Lincoln's heritage in Logan County:

Betty Hickey was honored for her work through the Mount Pulaski Township Historical Society and Elkhart Historical Society.

Shirley Bartelmay was honored for her work at Postville Courthouse in Lincoln.

Highlight of the luncheon was the guest speaker, A. Lincoln author and collector Louise Taper [see credits at right]. Taper gave a PowerPoint presentation showing many items in her collection, some of which have been on loan to the Abraham Lincoln Presidential Library and Museum in Springfield. There were pictures of Lincoln's bloody gloves that he wore on that fateful evening at the Ford Theatre and one of his stovepipe hats, which highlight her collection. Both items had been on view at the recent "Blood on the Moon" exhibit in Springfield.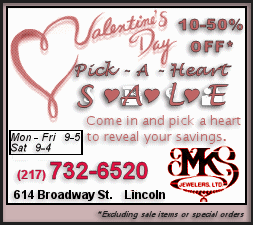 Taper's collection also includes the largest set of letters written by John Wilkes Booth, from which much of the "Right or Wrong, God Judge Me" book material is derived.
Taper is the owner of the largest private collection of Abraham Lincoln documents and artifacts in the world. She had photos of Marilyn Monroe with Carl Sandburg, illustration not only of Sandburg's interest in Lincoln lore, but also of Monroe's. Monroe's interest in A. Lincoln is documented in letters and photos that Mrs. Taper has in her collection.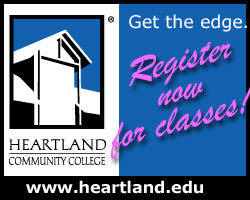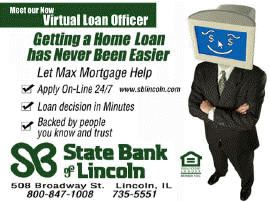 A feature of the luncheon was walnut-covered, three-layer cake, a specialty of the Mary Todd family. The cake was baked and donated by Lincoln College.
The celebration was hosted by the Lincoln and Mount Pulaski Looking For Lincoln committees, Lincoln College, and Lincoln Main Street.
Information supplied by Phil Bertoni, co-chair of the second annual Logan County A. Lincoln birthday luncheon.

Guest speaker Louise Taper credits:
Co-editor of "Right or Wrong, God Judge Me" -- writings of John Wilkes Booth

Researcher and technical adviser for the television miniseries "Sandburg's Lincoln"

Originator of the exhibition "The Last Best Hope of Earth: Abraham Lincoln and the Promise of America"

Recent presenter in the "Blood on the Moon," exhibit at the A. Lincoln Presidential Museum in Springfield, commemorating the 140th anniversary of Lincoln's assassination

Board member of Center Theatre Group of Los Angeles, Calif., which is comprised of the Ahmanson Theatre, the Mark Taper Forum and the Kirk Douglas Theatre

Board member of the Abraham Lincoln Association

Board member of the Lincoln Prize at Gettysburg College

Board member of the Lincoln Bicentennial Commission

Board member of the Lincoln Legal Papers

Trustee of Lincoln College
[News release; LDN]