Illinois Arts Council conducts workshops to assist organizational program grants applicants

Send a link to a friend
[FEB. 18, 2006] CHICAGO -- Illinois Arts Council staff, in cooperation with local arts organizations, is hosting application workshops at various sites throughout Illinois to assist applicants in completing proposals for fiscal 2007 program grants.
These grants are available to not-for profit Illinois organizations conducting arts programming. Grants are awarded for general operating support and special projects and are available in 11 different areas of arts programming. The application deadline is March 15. The free, 90-minute workshops are designed to provide specific information on the application procedures for the grants as well as programs and services offered by the Illinois Arts Council.

At right is a list of locations, dates and times of the workshops. People interested should contact the appropriate site to reserve a space, obtain travel directions or receive information about cancellations due to inclement weather. Individuals needing accessibility accommodations, such as a sign language interpreter, should make the request known to the listed contact person in advance of the scheduled workshop date in order to allow time for appropriate arrangements to be made.

Illinois Arts Council staff members are also available for telephone consultations or for scheduled appointments at the council's Chicago office. To ensure this assistance, contact the staff well in advance of the application deadline.

The Illinois Arts Council office is located in the James R. Thompson Center, 100 W. Randolph St., Suite 10-500, Chicago, IL 60601-3298; phone (312) 814-6750, (800) 237-6994 toll-free in Illinois and (888) 261-7957 by TTY or text telephone for individuals who are deaf or who have hearing or voice impairments.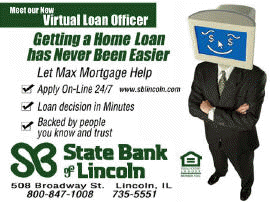 Illinois Arts Council Program Grant application workshop schedule
Feb. 21, 3 p.m. -- ArtsPartners of Central Illinois, 114 State St., Peoria; (309) 676-2787 or sboulais@artspartners.net

Feb. 28, 5 p.m. -- Illinois Arts Council, James R. Thompson Center, 100 W. Randolph St., 10th Floor, Suite 10-500, Chicago; LaNora Diaz, (312) 814-6899 or lanora@arts.state.il.us

March 1, 6:30 p.m. -- Mendelssohn Club, 415 Church St., Rockford; Bridget Fraser, (815) 964-9713
The Illinois Arts Council is committed to the cultural, educational and economic growth of the diverse people and communities of our state through the support and encouragement of the arts and artists.
[Illinois Arts Council news release]