County briefs

Send a link to a friend
[FEB. 21, 2006] Buildings and grounds chairman John Stewart said that a state grant the county clerk's office received can be used for the elevator in the courthouse. The $20,000 grant will be used toward the $90,000 project. Additional funding is still being sought, Stewart said.
Tourism director Geoff Ladd had good news for Stewart, who has been planning renovations for the dome of the Logan County Courthouse. Ladd said he thinks that he has located a potential grant to help with the dome, based on the fact that the public can tour the building.

Ladd also introduced tourism's newest appointed board member, Annette Chapman of Atlanta. Chapman's three-year term of office will be from Feb. 28, 2006, to Feb. 27, 2009.

Paul Gleason said that county health insurance claims of $516,549 have exceeded the $489,160 in premiums paid out for the first eight months of the year. It has created a 106 percent loss ratio with still four months to go.

New billboards inviting people to see our Abraham Lincoln sites and travel our National Scenic Byways Historic Route 66 have started going up on Interstate 55. Ladd said that the local tourism office paid for the first two billboards, which are located at the north and south ends of the county, at the Atlanta and Broadwell exits. He hopes to see billboards all up and down the interstate in the future as the Route 66 tourism takes off.

The setup for the billboards cost $1,200. Grants will help fund future billboards.

Gleason said tourism is developing ag bus tours that will bring people down from the city to get a slice of rural life.

A $250,000 grant for the Logan County emergency communications system has been attained through U.S. Rep. Ray LaHood. The funds are a great jump-start on what's anticipated to be a $1 million project that will add new features and improve the system's performance and capabilities by replacing antiquated equipment.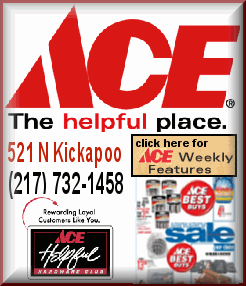 The most recent change in communications was the addition of more secure radio bands. The new equipment will be integrated over the next few years. It will improve communications by offering service to officers in the field where they currently encounter dead communication zones. It will also provide more information in the communications room from land-based 911 callers, particularly those who have special needs, such as a handicap. Information will be pre-entered from these citizens and show up when they call.
County officials, department heads and anyone who might be called on in an emergency response situation is required to participate in National Incident Management System training. Class and online course options are being presented through the Logan County Emergency Management Agency, starting in April. Dick Logan urged officials to get attendance out of the way. Noncompliance could keep grants already awarded but not yet received, like the $250,000, and future grants from coming to the county.
There will be a used tire collection on April 1 from 8 a.m. to noon and a hazardous household wastes collection, coinciding with Earth Day, on April 22. Both events will take place at the Logan County Fairgrounds, waste management chairman Pat O'Neill said.