Theatre 7 announces auditions for 'Man of La Mancha'

Send a link to a friend
[FEB. 23, 2006] DECATUR -- Additional audition dates for Theatre 7's production of "Man of La Mancha" have been scheduled March 1 and 2 at 7 p.m. at 131 N. Water St. in downtown Decatur.
Performance dates and times are April 21-22 and 28-29 at 7:30 p.m. and April 23 and 30 at 2 p.m. at the Decatur Civic Center Theatre, 1 Gary Anderson Plaza.

The musical is written by Dale Wasserman. Music and lyrics are by Mitch Leigh and Joe Darion respectively. The director is Bill Keagle.

Be prepared for the auditions by:
Expecting to read a scene from the play with several other actors.

Bringing sheet music of a song or being ready to sing a song from the show.

Being prepared to learn a brief dance step.

Bringing a list of dates (conflicts) when you will not be available to rehearse.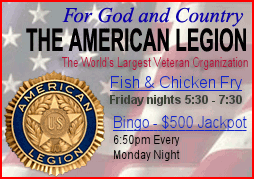 Cast requirements:
Don Quixote (Cervantes) -- a charming author and tax collector; baritone, low B to E

Sancho Panza -- Don Quixote's pragmatic, loyal servant; tenor, C to high G

Aldonza (Dulcina) -- a wild, lusty woman whom Don Quixote fancies; soprano, low A flat to high A flat

Innkeeper -- a strong but kind and sympathetic man; bass, low G to C sharp

Dr. Corrasco -- loves money; baritone, low C to D flat

Padre -- tenor, F to high G

Barber -- a comic part; tenor, D to high G

Antonia -- Alonso Quijana's self-centered niece, who is to marry Dr. Carrasco; mezzo, C to high F

Housekeeper -- Alonso Quijana's strong housekeeper, who is full of hope; mezzo, F to high F

Pedro -- a rough, sturdy muleteer; baritone, low D to D

Anselmo -- a rough, sturdy muleteer; tenor, A to high F sharp

The Moor -- tenor, C to high B flat

Contour -- tenor, F to A flat
Other:
Maria

Fermina

Captain of the Inquisition

Guards and Men of the Inquisition
"Man of La Mancha" is a remarkable show and one of the great theater successes of our time. This is a play within a play, based on Cervantes' "Don Quixote." We have a poignant story of a dying old man whose impossible dream takes over his mind. "It's All the Same," "Dulcinea," "I'm Only Thinking of Him," "The Impossible Dream," "I Really Like Him" and "Little Bird" remain in your thoughts and in your soul well after you see the show. His dream is every man's dream. His tilting at windmills is every man's great adventure. Somehow, the footlights disappear, time is telescoped and "Man of La Mancha" speaks for humankind.
[Theatre 7 news release]