Knapp Library notes

Send a link to a friend
[JULY 5, 2006] MIDDLETOWN -- Plans are under way to publish a book of Middletown history -- past to present -- for the 175th anniversary observance June 15-16, 2007. The public is asked to share family photos and history for the publication. Anyone living in the Middletown area currently or in the past or having "roots" in the area is welcome to participate at no cost.
Date of publication hopefully will be May 1, 2007.

Please send inquiries and information to Knapp Library, P.O. Box 266, Middletown, IL 62666; or call the library, (217) 445-2050 on Tuesday or Wednesday afternoons or on Saturday mornings, 9 to noon.

Mark your calendars for the Knapp-Chesnut-Becker annual ice cream social, "An Afternoon of Poetry and Music," on July 16 at the Middletown Park pavilion.

Jessie Young, a published poet from Mason City, and Bill Furry, Springfield, of the Illinois State Historical Society, will read poetry. Music will be provided by the Postville Express from Lincoln.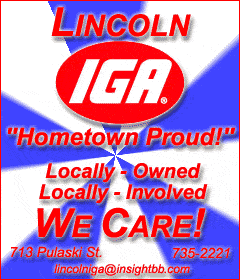 Gift received
Historical items of all kinds are being received and collected. A recent valuable gift, from the Jim Fielden family, is a 1929 map and floor plan of the Johnson coal mine south of Middletown.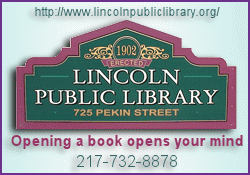 Civil War photos
Knapp Library is requesting copies of photos of Civil War participants from the Middletown area.
Families will wish to retain the original photos, but copies of photos and information will be invaluable to researchers.
"Journey to Book Island"
Shipmates, ahoy! Calling all sailors and pirates to the summer reading program, directed by Lisa Kuhlman. Children are invited to join the fun, games, storytelling and refreshments each Wednesday from 1:30 to 3:30 p.m. There is no charge.
Skipping July 5, the Wednesday sessions will continue July 12, 19 and 26.
[News release provided by Winnie Golden]