---
His Precious Little Ones,
day-care center
We have openings for first and second shift for ages 6 weeks to 5 years of age. Our hours are 6:30 a.m. to 12:30 a.m. If you would like to enroll your children, give the director, Patty Allen, a call at (217) 735-5696. Why not come and be a part of our family!

Send a link to a friend
---
---
---
---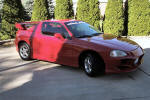 1995 Honda Civic SI del Sol; $5,800; FWD, 5-speed; red with full body kit, aftermarket exhaust, and cool multicolored underglow lights! American Racing Wheels; 141,000 miles; tinted windows. 2-seater, large trunk. Put the auto rear window down and easily lift off the targa top (attaches under trunk lid) to enjoy the del Sol as a convertible. Just serviced at Honda dealership. Serious inquiries only. (217) 735-5708. [click on picture for larger image]

Send a link to a friend
---
ATVs 2006, automatic with remote start/stop/alarm/governor, 110cc, $650. Barbed Wire ATV, Elkhart, Ill. (815) 985-9151, barbedwireATV@yahoo.com

Send a link to a friend
---
Street stock race car. TCA chassis. Olds Cutlass body, metric frame. Frame and cage straight, has racing springs, front and rear weight jacks, quicksteer, new seat, 9-inch Ford with disc brakes, 6.50 gear. 3-speed tranny with triple-disc clutch, hydraulic throwout. Aluminum radiator, 22-gallon fuel cell, aftermarket pedals and aftermarket power steering. Engine: fresh 350 .060+ .275 dome pistons, 12.2:1, Victor Jr. intake, Proform 750 double-pump carb. Moroso HEI ignition. Dart Sportsman II heads ported and polished. Roller rockers and stud girdles. Great car. Looking to move up. $5,000 turnkey or $2,800 minus engine and gear. (217) 314-9677.

Send a link to a friend
---
For sale: 2003 Chevy Silverado 1500LS, 5.3 liter, four-wheel drive, Z71, extended cab, short bed, 23,000 miles. Call (217) 735-2191.

Send a link to a friend
---
---
---
---
Hard worker, on time, work well with others, outgoing personality, know about steel work, some heavy machinery, have worked around cranes. Enjoy working on water and traveling. Can go on far trips away from home for long or short periods of time. (217) 227-3796.

Send a link to a friend
---
Ad sales person wanted: Part-time opening for outgoing personality to help local businesses gain exposure and sell their wares. Must be organized, ambitious and enjoy working with people. Send resume or request application: ldneditor@lincolndailynews.com.

Send a link to a friend
---
Are you underemployed? Thinking about a new career? Here's your chance to make a change! MWCI, an area leader in machining, welding and tube bending, is seeking highly motivated individuals for 2nd and 3rd shift positions. Openings currently exist for:
CNC Mill or Lathe Operators

CNC Tube Benders

Mig or Tig Welders

Production Machine Operators
Experience preferred, but we are willing to train the right people. In addition to our attractive benefit plan, we offer a competitive hourly rate. Qualified applicants apply at: MWCI, 70 Commerce Dr., Morton, IL or e-mail opportunities1@mortonwelding.com.

Send a link to a friend
---
---
---
---
Auto keys found in CCA parking lot. Call (217) 737-5965.

Send a link to a friend
---
---
Storkcraft convertible crib. Natural wood finish, matching five-drawer dresser and three-drawer dresser/changing table. Mattress not included. Good condition. $400 or best offer. (217) 735-3062. chrstnaa76@insightbb.com

Send a link to a friend
---
For sale: Three multi-line office telephones: one cordless Casio PhoneMate two-line phone with built-in answering machine, two GE three-line corded phones, all with hold, indicators and conference. Excellent condition. $200 for all three. Call (217) 737-5965.

Send a link to a friend
---
---
---
---
8 ACRES +/- Building Site, pond, trees, by Clinton Lake.
100 ACRES +/- near Flanagan $ 4,595/ac.
Have Buyers for Excellent 320 and 40.
1031 Buyers, Call us.
Thinking about Selling your Farm? - Prices are HIGH!
Call: Marty Thornton, Frank Hill, Warren Basting or Tim Woods
<![if !vml]>
<![endif]>
Heartland Bank and Trust Company Broker
309-662-4444
www.hbtbank.com

Send a link to a friend
---
Attention: Real Estate Investors
Buy before we list. All quality properties --
5-unit ground-level apts., private carports/garages

4-unit ground-level apts., all appliances furnished and new

3-bdrm. home, very nice

2-bdrm. home, very nice

1-bdrm. home, very nice
Call (217) 735-9148.

Send a link to a friend
---
---
Lincoln -- 1 bedroom apartments.
Call for details. 871-2929

Send a link to a friend
---
---
---
---
---