Golf event nets $18,400 to help purchase new mobile medical-dental unit for Logan County

Send a link to a friend
[JULY 15, 2006] The Abraham Lincoln Healthcare Foundation's June 23 Fore ALMH golf event netted more than $18,400 to support the purchase of the new HOPE Mobile, a health care and dental clinic on wheels.
Dubbed the HOPE Mobile for the health care, oral health, prevention and education services it delivers to the people of Logan County, the $289,000 custom unit is expected to arrive around Labor Day. It will replace the current mobile health unit, or "Corn Bus," which was purchased in 1997 with federal grant funds and has traveled more than 75,000 miles on Logan County roads.

Also supplementing the $289,000 purchase price is a $225,000 grant from the Illinois Children's Healthcare Foundation and a generous bequest from the late Hilda Humphreys of Clinton.

The new mobile unit will feature a room dedicated for dental exams, cleanings and sealant applications. Dentists and dental hygienists will use the new unit as they travel to schools, Head Start programs and day-care centers throughout the county and treat low-income youth in need of oral care.

On other days, a family nurse practitioner and a Logan County Health Department nurse will take the unit to Logan County's rural communities and offer general health services like vaccinations, health screenings, school physicals and care to those with chronic health problems.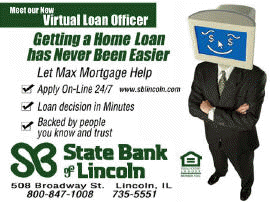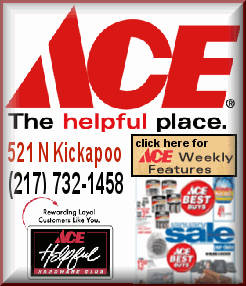 The HOPE Mobile is an outreach of Logan County's Healthy Communities Partnership. Partners include Abraham Lincoln Memorial Hospital, Family Medical Center, Logan County Health Department, Logan Mason Mental Health and the Lincoln/Logan County Chamber of Commerce.
Healthy Community Partnership funders include the SIU School of Medicine, Logan County Board and the Abraham Lincoln Healthcare Foundation.
The Abraham Lincoln Healthcare Foundation hosts the Fore ALMH golf outing the fourth Friday in June each year at the Lincoln Elks Country Club. Proceeds from the golf, dinner and auction support ALMH programs that maintain, restore and improve the health of the community. To learn more about the event, visit www.almh.org.
[News release provided by Marty Ahrends, executive director of community development, Abraham Lincoln Healthcare Foundation]