Next year the county plans to budget $126,000 for operating expenses and anticipates $90,000 in revenues. This would leave the facility $36,000 short.

Hasprey was also asked by the board to recalculate community contract fees to distribute the costs according to usage of facility services and shift more of the actual costs to the communities. This was done by taking the anticipated net loss of $36,000 and combining it with the proposed added expenses of $20,000 and dividing by the percentage of calls made in a community. Of the total calls, 79 percent are made in Lincoln. Lincoln's annual fee would increase from $27,951 to $44,194 per year.

Aldermen reacted to the 63 percent jump.

According to the letter and conversation with Hasprey, Anderson said that the facility is actually decreasing expenses, with less salary time by the veterinarian, donations of food and other supplies, yet it is being budgeted the same as last year. She wondered about this.

A look at the 2005-2006 county budget shows an anticipated $126,000 in expenses and $96,300 in revenues, leaving an anticipated loss of $29,700. The facility loses money every year and began the year with a deficit of $61,937, for an anticipated fund balance of minus $91,637.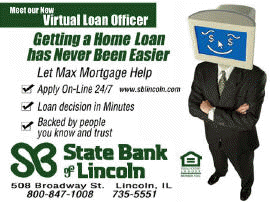 Aldermen launched into a discussion that questioned if the contract obligations are currently being met and other aspects of expectations. Several thought that if the county is actually looking at communities being assessed actual costs, then they should look at the added expense of travel to other communities also.
Some aldermen believed that the county is obligated to provide the service. "They're mandated by the state of Illinois to provide the service, and we've been kind enough to take some of the bluntness away from them," Daron Whittaker said.
Anderson said she brought that up with Hasprey, and she said that they have consulted with the state's attorney and they can't find it anywhere that this is mandated. The county would just as soon close the doors next year, she was told.
Alderman Benny Huskins, who has been involved in three past contract negotiations, said that they were expected to patrol the streets, and that isn't being done.
Verl Prather asked Anderson if they are currently providing service according to what the contract reads. Does it say they are to patrol, he asked, or say anything about cats?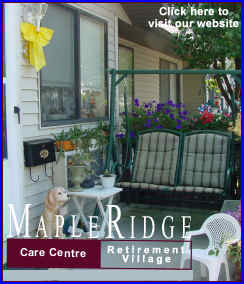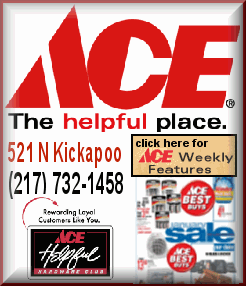 Anderson said she couldn't find anywhere in the contract that it says that they are required to patrol. It says they will perform duties that help Lincoln enforce the city ordinance. Which they do -- they pick up dogs running at large and they respond to dog bites.
Animal control does not go out and pick up cats or any other animals, other than dogs. They do rent cat traps and will take in cats brought to the facility.
Whittaker said he knew of times they had not responded to repeat calls. He knew of a time that Sangamon County actually came over.
Prather said he would like to know if the county levies for the service. If they do, he would not want to have residents double-taxed for that service.
Anderson is going to check on if the facility is levied and whether or not the county is mandated by law to provide the service.
It is rumored that several of the communities with contracts actually have not been paying. The county records don't actually show who has paid. But Whittaker has been told that Hartsburg and Emden have not been paying, and Mount Pulaski does so reluctantly, and he didn't think Elkhart was paying. He didn't think Lincoln should catch the brunt of the cost for them as well. He and Alderman Buzz Busby would like to see what other cities are paying.
Anderson said that Hasprey said the new veterinarian, Michael Sanborn, would be willing to come explain the proposed changes to the council.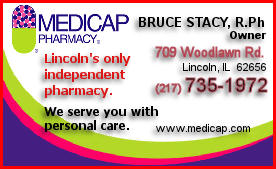 Appropriations approved
The council approved appropriations for the 2006-2007 fiscal year.
$18,741,205 before transfers

$ 3,266,833 after transfers within funds and other sources

$15,474,375 net transfers
The amount after transfers last year:
Not in last year:
$2 million for Sysco project

$640,000 general obligation bond payment
Discussion of satellite dish
Two committee meetings have been scheduled.
Water study to be presented
On Aug. 15 at 6:15 p.m., there will be a presentation of the west-side water study being prepared by Greene and Bradford engineers.