J&S Auto Centre gives new 2007 Outlander ATVs to local law enforcement departments

Send a link to a friend
[JULY 31, 2006] J&S Auto Centre together with BRP Can-Am, maker of the BRP ATVs sold at J&S as well as Sea-Doo jet skis, Ski-Doo snowmobiles, Johnson and Evinrude outboard engines, handed keys over to Logan County Sheriff Steve Nichols and Lincoln Police Chief Bob Rawlins for brand-new 2007 Outlander 400 ATVs on July 15. Both officials were elated, making immediate plans for their new ATVs.
Nichols had several instances come to mind where the vehicles could have been helpful in the past and ideas about their potential use. He said they are quiet and could be used for patrolling crowd situations, such as the balloon fest, or they could be used while observing suspicious behavior where vehicles are involved. They may even be useful getting down narrow field roads where meth production is suspected.
Law enforcement departments across the U.S. have been adding ATVs to their vehicle fleets. And why not? ATVs are four-wheel wheel drive, off-road vehicles that enable a driver to maneuver into places that a car or SUV simply won't go. ATVs are used for search and rescue missions, surveillance, pursuits, traffic control, and public relations, plus the ordinary, day-to-day functions of police departments.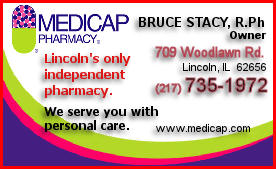 Intrigued by the expanded usage of ATVs in law enforcement, J&S Auto Centre queried BRP Can-Am regarding the availability of programs that would benefit the local police departments. BRP, partnering with their dealers, offered the free (of purchase), unlimited usage of an ATV for a year, with the results being the delivery of the two new Outlander 400s.
Nichols and Rawlins gladly accepted the keys to their new vehicles, with additional support offered by Mayor Beth Davis, Logan County Board Chairman Bob Farmer and his wife, Diane, and detective Rick Bacon.
The BRP Outlanders driven by the police and sheriff's deputies each retail for $6,500 and have 400 cc high-output Rotax engines capable of speeds up to 50 mph, minus the worries of overheating, thanks to the water-cooled engine BRP is known for. In fact, BRP ATVs are being used by our armed forces in Iraq for that very reason -- they will not overheat regardless of the temperature. Additionally, these units share the SST surrounding spar technology frame, which lowers the center of gravity, improving handling and maneuverability over obstacles and stopping power. Four-wheel Visco Lok drive with inboard disc brakes takes these ATVs where few others can go.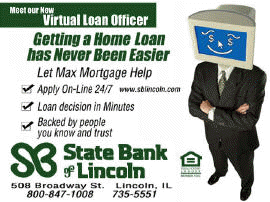 The city and county both qualifying for the program is unbelievable. The BRP Can-Am program distributes roughly 200 ATVs across the U.S., with these two ATVs being the only ones authorized for not only Illinois but the encompassing multistate region.
J&S Auto Centre, located at 1006 Woodlawn Road in Lincoln, is Lincoln and Logan County's only ATV dealer, offering sales of new and used ATVs as well as a full complement of services for ATVs and motorcycles of all brands, makes and models. In fact, J&S was awarded BRP's prestigious Platinum Certification designation in 2005 and 2006, increasing service and sales benefits for J&S customers. J&S Auto Centre is also known for sale and service of low-mileage, superior quality pre-owned vehicles, with an emphasis on imports.
J&S is a family-operated business founded in 1990, with BRP ATVs added to the lineup in 2004 and Bad Boy commercial mowers in 2005. J&S Auto prides itself on its no-pressure sales atmosphere with customers and their total satisfaction as the primary focus.
For additional information, contact Jim Horn, J&S Auto Centre owner, at (217) 732-8994 or jandsautocentre@verizon.net, or visit www.jandsautocentre.com.
[News release]