Upcoming GPS conference takes producers to infinity and beyond

Send a link to a friend
[JUNE 5, 2006] URBANA -- Everything from the economics of GPS to handheld technology and the management of yield data will be covered at "GPS in Agriculture -- Guiding You to the Future," a daylong conference June 23 at the Interstate Center in Bloomington.
"This program features presentations that will provide an economic evaluation and broad overview of available GPS technologies," said Jay Solomon, a University of Illinois Extension educator in engineering technology. "There will also be demonstrations that will offer hands-on experience to answer application questions."

The program kicks off at 8:30 a.m. with a presentation by Terry Griffin of Purdue University, titled "The 'Dollar$ and Sense' of GPS in Agriculture," a discussion of the economic impact of various assisted guidance and auto-guidance technologies.

William "Rudy" Rudolph of Mid-Tech will speak to the current status of GPS technology in agriculture as he presents "Where in the World is the GPS Industry Today?" Also, Qin Zhang, U of I professor of agricultural and biological engineering, will present "To Infinity and Beyond -- Technology: What is on the Horizon?" Zhang's research has focused on the future use of GPS technologies in agriculture.
In addition, Solomon noted, concurrent sessions will be offered. Those sessions, repeated twice, are:
Session A: "So You Have Yield Data, Now What?"

Session B: "Conservation Farming with GPS -- Farm Bill, FSA and GPS"

Session C: "The Future is In Your Hands -- GPS Handheld Technology"

Session D: "On-Farm Research With GPS"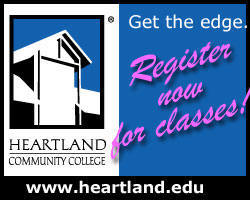 Industry presentations and field demonstrations will round out the conference, which ends at 5 p.m.
"If you've been considering adding auto-guidance or GPS data collection technology to your tractor or combine, then you won't want to miss this opportunity to actually 'test drive' and compare several of these equipment options at this conference," said Pete Fandel, a University of Illinois Extension educator in crop systems.
The deadline for registration is June 16. The $15 registration fee includes lunch, breaks and handouts. To register, contact the McLean County Extension Unit at (309) 663-8306.
"There's a lot of new technology in the field of GPS and agriculture," said Solomon. "It can be a little overwhelming until you learn just what it can do for you."
The conference is sponsored by University of Illinois Extension and the McLean County Farm Bureau.
[University of Illinois College of Agricultural, Consumer and Environmental Sciences news release]