Lincoln Heritage Days celebration to kick off on Thursday

Send a link to a friend
[JUNE 23, 2006] The annual Lincoln Heritage Days celebration will kick off this year with the unveiling of a special exhibit at the Lincoln College Museum. The public is invited to the opening of "Salute to America's Greatness" on June 29 at 7 p.m. with a reception to follow.
On June 30, the fun really begins with sidewalk sales, a car show, music, games and a cookout at St. Clara's Manor. End the night with dancing on the corner of Pulaski and McLean streets as Rock Night rocks on.

July 1 starts off with a community garage sale and flea market in Scully Park and more sidewalk sales downtown. The Lincoln Public Library will host Abraham Lincoln sessions for children from 10 a.m. till noon; call (217) 732-5732 to register. Starting at 1 p.m., the car cruise-in begins on Kickapoo Street. The first 100 cars will receive a dash plaque. For more information about the cruise-in., call (217) 732-3519 or (217) 732-3245. At Scully Park there will be music and free games for kids from 2 to 4 p.m. A watermelon feed, sponsored by Kroger and Mrs. Fred Hoppin, will be at 4 p.m. Country music fans will dance in the streets during Country Night.

The Abraham Lincoln Bicentennial 2009 will have a kickoff reception at 7 p.m. on July 2 at the Lincoln College Museum. At dusk, the public is invited to watch "Sea Biscuit" at the free jumbo outdoor movie. Free popcorn will be provided. All children must be accompanied by a parent.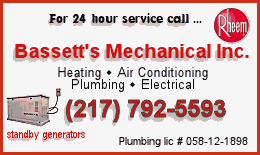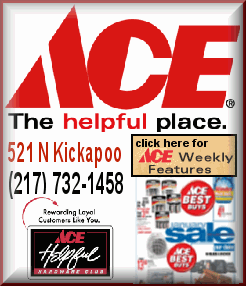 Finally, on July 4, the second annual Old Fashioned Children's Walking Parade will step off. The theme this year is "Let Freedom Ring." No motorized vehicles will be permitted. Registration for the parade begins at 9 a.m., and judging will be at 9:30. Call the Lincoln Park District at (217) 732-8770 for more information.
At 11:30 a.m. the Lincoln Fire Department will have a water balloon fight, followed by Splashapalooza at the pool. For those vintage "base ball" fans out there, the Lincoln Fire Department will take on the Lincoln Rural Fire Department in an old-fashioned base ball game. Music, provided by DJ Kevin Curry, will start at 8 p.m., and the fireworks extravaganza will begin at dusk.
This year's Lincoln Heritage Days celebration will be an extraordinary event that no one should miss!
[Abraham Lincoln Tourism Bureau of Logan County news release]