ZLS American Legion Auxiliary essay winners

Send a link to a friend
[MARCH 6, 2006] Four eighth-grade students from Zion Lutheran School in Lincoln won the top four places in the Americanism essay contest sponsored by American Legion Auxiliary 263. The topic of the essays was "Americanism -- Courtesy of the Red, White and Blue." The purpose of the contest was to aid the schools of Illinois in the teaching of Americanism and good citizenship.
The awards were presented by Marlene Schrader, Americanism chairman from American Legion Auxiliary 263, following a recent school chapel service. Each of the four winners received a monetary award.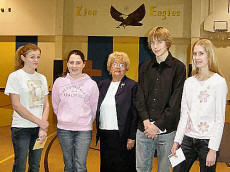 Pictured left to right are Bethany Dzekunskas, fourth; Raeann Sheley, third; Marlene Schrader; Scott Carnahan, second; and Kathryn Opperman, first place. Kathryn's essay has been entered in district competition, with the opportunity to advance to the state level.
[Zion Lutheran School news release]