Votes could still come in postmarked by the election date, especially those sent in by people serving in the military.

The straggling could turn two results, one for a contested county board position and the other on a referendum request. The Republican race between newcomer Michael McIntosh and longtime board member Paul Gleason for Logan County Board District 6 came to a hairsplitting 307-305 win for McIntosh.

Also in a close call is the Lincoln Rural Fire Protection District referendum. The fire district that serves outside city limits put a $1.3 million bond issue on the ballot to build a new firehouse. That failed to pass by seven votes, 425-418.

All the contested positions in Logan County were Republican contests for county board positions.

The District 2 race between Robert "Bob" Farmer and Daniel "Dan" Meyer resulted in Farmer as the winner 389-271.

District 3 saw John Stewart over Ron Rohlfs 469-156.

District 5 set Gloria Luster over Jim Griffin 297-199.

There are no Democratic Party candidates to contest either Luster or Farmer in the consolidated election on Nov. 7. However, Stewart will see Democratic candidate Rebecca Drake, who pulled 144 party votes yesterday.

The November election will also see a contest for sheriff between Republican Steve Nichols and Democrat Jerry Melton.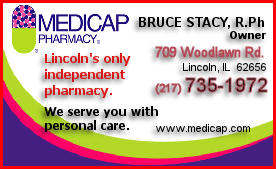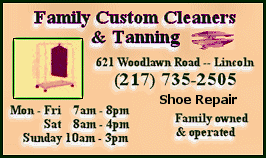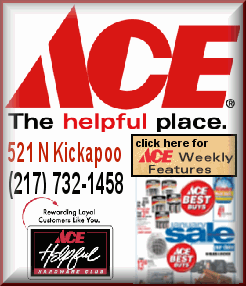 There will be precinct committeeman contests for:
Chester -- Republican Danny Wheat (130 votes) and Democrat Robert Gleason (23 votes)

East Lincoln 6 -- Republican James Wessbecher and Democrat Amber Thompson

East Lincoln 9 -- Republican Bill Cooper and Democrat Larry Lichtenwalter

East Lincoln 12 -- Republican Mick Turner and Democrat Joe Haning

West Lincoln 3 -- Republican Gloria Luster and Democrat James Hahs

West Lincoln 7 -- Republican David Bender and Democrat Patricia French

West Lincoln 11 -- Republican Mary Bruns and Democrat Steven Browne

Orvil 1 -- Republican Viola Alberts and Democrat Ronald Barry

Orvil 2 -- Republican Kay Proefrock and Democrat Gladys Boerma

Corwin -- Republican Judi Graff and Democrat William Melton

Sheridan -- Republican Kenneth Lowe and Democrat Bruce Bartman
There will also be a contest between write-in candidates Cheryl Renfrow, a Democrat, and Thressia Usherwood, a Republican, for Atlanta 1 precinct committeeman.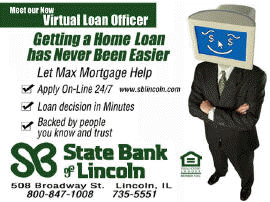 Write-in candidate numbers will be available later today.
Registered write-in candidates:
Democrat, governor, James R. Davis, Springfield; Democrat, lieutenant governor, Pamela R. Schadow, Springfield; Republican, state's attorney general, Joann Brewogel, Chicago; Republican, lieutenant governor, Jeremy B. Cole, Canton; Democrat, Atlanta 1 precinct committeeman, Cheryl Renfrow; Republican, Atlanta 1 precinct committeeman, Thressia Usherwood; Republican, East Lincoln 1 committeeman, E. Todd Armstrong.