Lincoln Scouts to host bicycle tour

Send a link to a friend
[MARCH 23, 2006] Boy Scouts Trevor Arrington and Corey Janssen went before the Lincoln City Council and received approval to host a bicycle tour in and around Lincoln this spring. The boys are part of Boy Scouts of America, Troop 1102, chartered to First United Methodist Church.
The troop will host the I Spy Lincoln bicycle tour from May 12 to 14. The tour is open to Scouts only on the 12th and 14th, but it is open to the public on Saturday, May 13.

Arrington said that the tour will have well-marked trails in three distances: 15-, 30- and 60-mile routes. The featured activity is for participants to identify historic Abraham Lincoln sites. Participants identifying the most sites will qualify for a prize drawing.

The tour begins and ends at YMCA-Odd Fellows property on Wyatt Avenue. Breakfast will begin at 6 a.m. Registration begins at 6:30 a.m. Riders can begin their rides after they are registered.

Riders participating in the 30- and 62-mile routes must begin their rides by 9 a.m. Registration will end at 10 a.m.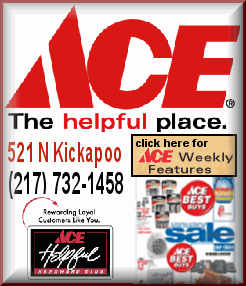 Meals are open to the public, not just to those participating in the ride.
Safe Kids Logan County will provide a free bike rodeo beginning at 1 p.m. and ending at 3 p.m. This event will also be located at the YMCA-Odd Fellows gym.
Snacks and drinks will be provided along the way.
Arrington said that the routes have been approved by the Illinois Department of Transportation.
Early registration is encouraged, but same-day registration will be accepted as well. To register, go to http://www.ispylincoln.org/.
[LDN]