For the counties of Knox, Fulton, Schuyler, Mason, Logan, Cass, Menard, Scott, Morgan, Sangamon, Christian, Macon, Moultrie and Shelby:

Wednesday and Wednesday night

Thunderstorms over eastern Missouri were moving eastward into central Illinois this morning. Most of the storms were weakening as they approached; however, restrengthening is possible toward early afternoon. Some of the storms may become severe, with large hail and heavy rainfall the primary threats. Isolated spots may also receive damaging winds. Additional thunderstorm development is expected along a cold front that will approach the region tonight. Some severe weather will also be possible with this activity before the storms weaken late in the evening.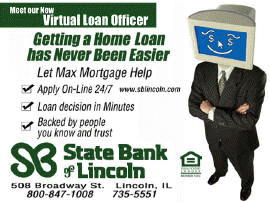 Thursday through Tuesday, May 4-9
The next chance for organized thunderstorm activity will be on Monday as another cold front moves into the region.
Spotter information statement
Spotter activation may be required this afternoon and evening.
[Provided by Terry Storer, Logan County Emergency Management agency]