Budget process ends in continued pension raids, state overspending

Send a link to a friend
[MAY 4, 2006] SPRINGFIELD -- After secret, closed-door meetings between Chicago Democrats, state Rep. Bill Mitchell, R-Forsyth, said Wednesday that he would oppose the fiscal 2007 budget because it fails to cut spending and pay backlogged bills to address needs of the state.
"It is a shame that more members of this legislative body were not asked to contribute to the budget process," Mitchell said. "Chicago Democrats met in secret to craft a new state budget that will do nothing to address almost $2 billion in unpaid Medicaid debts or replenish pensions that are being raided for the second year in a row."

Earlier this spring, Mitchell filed a bill to foster more transparency on budget items. House Bill 5248 requires budget bills to be posted on the General Assembly's Web pages 72 hours before final passage.

The Democrats' proposed budget does the following:
Raids pension systems for $1.1 billion in fiscal 2007, after $1.2 billion for fiscal 2006 was raided in last year's budget. Between fiscal 2004 and fiscal 2008, the Democrats will short the pensions by $3.5 billion, which will cost the taxpayers $38.5 billion to repay.

Contributes to a general obligation bond debt that has now tripled by 167 percent, from $7.6 billion to $20.3 billion. In the coming year, taxpayers will have to pay $1.68 billion just to cover the debt service on these bonds.

Ignores nearly $2 billion in unpaid Medicaid bills owed to hospitals, nursing homes, pharmacists and others for services they have already rendered. Many of the agencies wait more than six months to receive payments, creating financial hardships and causing closures for some struggling nursing homes.

Millions of dollars have been allocated to Chicago pork projects, while pensions are shortchanged and Medicaid bills go unpaid.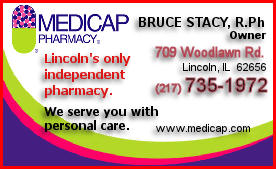 "State debt has increased in the last three years more than in the Thompson, Edgar and Ryan years combined," Mitchell said, referring to former Illinois governors.
Although the $55 billion budget indicates the anticipation of $900 million in new state revenues, Mitchell said those revenues should not have been used to propose another $1.4 billion in new spending for pet projects, when the state is not currently meeting debt obligations.
"Instead of putting more money into the hands of Democrats for their pork projects, we could have been looking at ways to keep two people from being cut from both the Department of Corrections facilities in Decatur and the facility in Lincoln," Mitchell said. "It is obvious we're not committed to creating a safer environment for our state correctional workers or the communities they are located within."
Recently, Mitchell held a press conference at an area prison, citing the need for improved safety conditions in Illinois prisons and correctional facilities. By cutting staff and removing key positions from those facilities, the state is jeopardizing the safety of prison inmates, other workers and residents who live near the facilities.
[News release from Rep. Bill Mitchell]