A neighborhood railroad crossing has been selected by the Illinois Commerce Commission for an upgrade. The Kankakee Street crossing near Lincoln College, between Logan and Ottawa streets, will receive a new crossing surface, and lights and gates will be installed.

The city's portion of the project would be $22,028, or 10 percent of the $220,280 cost; 85 percent of the cost is covered by a crossing fund; and the Illinois Central Railroad Company would cover the remaining 5 percent.

* * *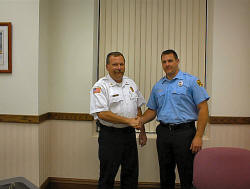 Fire Chief James Davis and Chris Harding
The Lincoln Fire Department has a new fire inspector. The position was created when James Davis became chief. Davis has named Chris Harding to the position. Harding has been with the department as a firefighter since 1999. As an inspector he will inspect new and existing structures, as well as participate in fire prevention education in schools and high-rises. He adds his new duties to his daily work, Davis said.
* * *
Alderman Jonie Tibbs was pleased to announce that a neighborhood park will receive some playground equipment. She has been trying for the last year to find equipment for the Ray White Park that is located at Monroe and Madison streets. They really use the park, Tibbs said.
Marcia Greenslate at the Lincoln Park District offered her assistance, and some equipment will be coming soon.
* * *
The council approved the annual appropriation.
* * *
A bid of $258,367 for the Zion lift station was accepted from Petersburg Plumbing and Heating. The next closest bid was at $298,000. Lincolnwood lift station is next.
* * *
Wastewater treatment manager Dave Kitzmiller said that he and city engineer Mark Mathon have been in discussions with the Department of Corrections. The city could move their south plant out to combine with the prison's lift station.
The equipment would be located just outside prison fences.
Doing this would require an intergovernmental agreement, sorting out how to exchange costs and bill them and installing a new line.
A benefit the city would see is that it has been found that the south plant is on a flood plain that requires elevating the station on a 17-foot concrete platform.
Aldermen agreed to move forward in pursuit to combine the plants.
* * *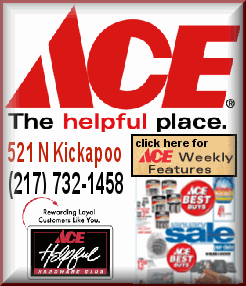 Mayor Beth Davis recognized Melanie Riggs and Susan Gehlbach, city clerk and deputy clerk respectively, for their dedicated work with proclamation of Municipal Clerk's Week, which is celebrated April 30-May 6.
Alderman Wanda Lee Rohlfs said the streets department planted four new trees on Arbor Day. That week the city planted 17 trees in all.
Petitions tabled
A motion to table the petition by the Elks to have their crippled children's fundraiser downtown on Sept. 16 was made by Rohlfs and seconded by Tibbs.
The event date is in conflict with Railsplitter activities in Lincoln.
Agreeing to table the petition were Marty Neitzel, Rohlfs, Benny Huskins, Tibbs and Derrick Crane; against were Buzz Busby, Whittaker, Prather, Anderson and Horn. The mayor broke the 5-6 tie, voting to table the matter.
* * *
The council continued to table two petitions from the Lincoln Speedway to serve alcohol at special events other than regular Saturday evening races.
Petitions denied
A request for reimbursement of a curb repair at 1018 N. Jefferson St. was turned down. Building inspector Les Last was asked last week if the petitioner, Gary Tripplett, had filed a petition for the work before doing it himself.
Last said that Tripplett had come in and was told that he would need to file the petition. Tripplett rejected the petition then. He did not want to wait; he wanted it done right away, Last said.
Tracy Jackson, streets superintendent, said that the materials Tripplett used, believed to be mostly sand mix, may not hold up. It is important that anyone wanting to do work themselves have the materials approved first, Jackson said.
A request for a stoplight at the corner of Keokuk and North Ottawa streets, at Lincoln College, was denied. The council discussed the matter last week. This is an intersection of a state highway and a city street.
City engineer Mark Mathon said last week that he had already been in contact with the state. He said that a study of the traffic at the intersection would need to be done. The study costs would likely be split 50-50 between city and state. The actual construction cost would most likely fall to the city.