Extension plans Walk Day events for Monday

Send a link to a friend
[MAY 5, 2006] In celebration of National Fitness and Sports Month in May, University of Illinois Extension in Logan County is sponsoring Walk Day events in Lincoln on Monday.
MyPyramid, the interactive food guidance system released a year ago in April, stresses the importance of daily physical activity such as walking. The system, which incorporates recommendations from the 2005 Dietary Guidelines for Americans, has the central message of "Steps to a Healthier You." For health benefits, physical activity should be moderate or vigorous and add up to at least 30 minutes a day.

Walking is the best way to start a new fitness program this spring because almost everyone can do it, it's free, and it's easy. Evidence about health benefits from walking is stacking up.

A recent U.S. Department of Agriculture study found that women who walk at least a mile a day reduce their chance of losing bone density as they age. Health experts tout physical fitness in general as having many benefits, including an association with a decreased risk of breast cancer, improved cardiovascular health, and lowered resting pulse rate and blood pressure. Exercise also helps to increase muscle tone, improves sleep habits, regulates appetite and reduces feelings of stress and anxiety.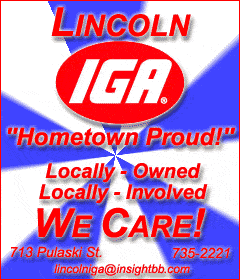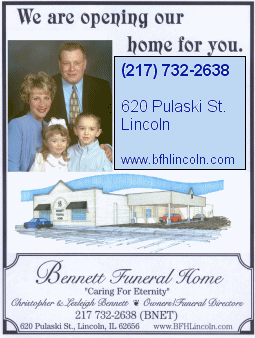 Area residents are invited to participate in local Walk Day events by walking Monday at Scully Park in downtown Lincoln, either over the lunch hour, between 11:30 a.m. and 1 p.m., or at the end of the day, between 4:30 and 6 p.m.
The first 50 participants in each time frame will receive free bottled water provided by Culligan. The first 20 participants will also receive a free sun visor. Participants may also register to win a pedometer or gift certificates from area restaurants.
Walk Day is an annual May event sponsored by University of Illinois Extension. For further information about how to get involved next year, please contact Patty Huffer at the Logan County Extension office at 732-8289.
[News release by Patty Huffer, Logan County Extension]